Cuba's aging former leader Fidel Castro has accused the West of war-mongering in the Middle East and eastern Europe, comparing Nato to the Nazi SS.
The intervention from the now retired communist leader, seemingly in defence of the pro-Russia factions in Ukraine, comes as that country's defence minister accused Russia of launching a "great war" in the east which could cost the lives of tens of thousands.
"A great war has arrived at our doorstep - the likes of which Europe has not seen since World War Two," Ukrainian Defence Minister Valeriy Heletey wrote on Facebook.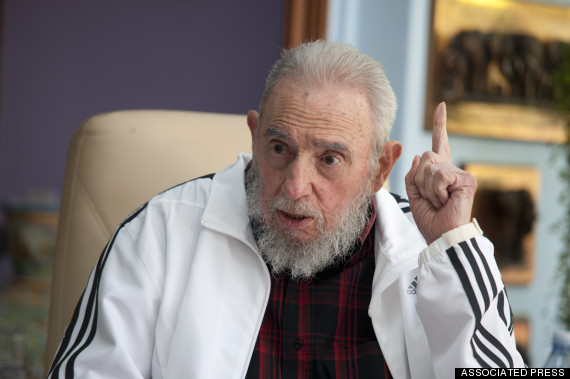 Fidel Castro has compared Nato to the Nazis
"Unfortunately, the losses in such a war will be measured not in the hundreds but thousands and tens of thousands," he added.
It was "hard to believe that such statements can be made by the defence minister of a civilised state," Russia's foreign ministry retorted.
Brave BBC Reporter Won't Take No For An Answer From Putin In Dramatic TV Stare-Down

Putin 'Practically At War With Europe' As EU Leaders Plan Urgent Sanctions For Russia Over Ukraine

Obama: 'Russia Is Responsible For The Violence In Eastern Ukraine'
On Monday, Nato secretary general Anders Fogh Rasmussen unveiled a new Readiness Action Plan, including proposals for a new force of several thousand troops to act as a "spearhead" to be deployed at very short notice to help member states defend themselves against any threat, including Russia.
Backed by air and naval assets, the unit would be made up of troops contributed on a rolling basis by the 28 Nato member states, including the UK. Although Ukraine is not a member of Nato, its president Petro Poroshenko will join leaders of Nato nations at this week's summit in Wales, and British troops will take part in a series of large-scale exercises in former Eastern Bloc countries in an effort to demonstrate the alliance's commitment to them.
Crisis talks aimed at breaking the deadlock between the Kiev government and pro-Russia separatists in the east, which had been ongoing in the Belarussian capital of Minsk have broken up without any peaceful conclusion being reached, and are set to continue on Friday.
On Monday, the Italian daily La Repubblica reported that in a conversation with outgoing European Commission President José Manuel Barroso, Russian President Vladimir Putin remarked: "If I want, I take Kiev in two weeks."
Castro said the tactics by the alliance were reminiscent of the Nazis. "Many people are astonished when they hear the statements made by some European spokesmen for Nato when they speak with the style and face of the Nazi SS," he railed, in a comment piece for the Cuban-state newspaper Granma.
The moment a belligerent Vladimir Putin was cornered by the BBC's John Sweeney
"Adolf Hitler's greed-based empire went down in history with no more glory than the encouragement provided to NATO's aggressive and bourgeois governments, which makes them the laughing stock of Europe and the world."
"When the USSR disintegrated and disappeared from the socialist landscape, we continued resisting and together, the state and the revolutionary people, we're continuing our independent march," he continued.
Fidel praised the Soviet nations as "a union capable of gathering its resources and sharing its technology with a large number of weak and less developed nations, the inevitable victims of colonial exploitation."
The op-ed from Castro also included the wild claim that Israel's Mossad intelligence agency had created the Islamic State, the radical jihadist group currently occupying parts of Iraq and Syria.
In an attack on US Senator John McCain, Castro said the 2008 Presidential candidate had "participated together with [Israel's Mossad agency] in the creation of the Islamic State, which today controls a considerable and vital portion of Iraq and reportedly one-third of Syria as well."
Since handing over the presidency to his brother Raul Castro in 2007, the former revolutionary, whose health was rumoured to be rapidly deteriorating, has concentrated on writings as well as hosting diplomats and foreign guests.