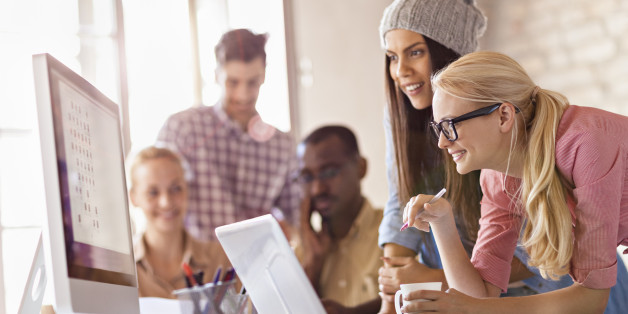 Geber86 via Getty Images
Going to university is stressful enough, let alone if you're travelling over from a foreign country to do so.
That's why we've rounded up the 9 apps and technology which will make your life bucketloads easier.
UniPlaces
The fastest-growing, international website for booking student accommodation online. The UniPlaces team verify every student home on the website, provide photos and detailed descriptions so it's incredibly easy and also safe to book somewhere to live. No matter what country you come from, you can arrange everything without needing a viewing, pay the first month rent online, and speak to the customer service team if you need help.
What3Words app
A map app so you don't have to describe where you are, you just send 3 words, for example deeply.reduce.swan is a table at one of UCL's cafes. Very helpful when trying to meet a new friend in a busy place, or especially at festivals or at freshers fairs where there are no postcodes or addresses. Also good when you don't know the name of where you are because you are new to the city.
Google Translate app
The translations are not always perfect, but very helpful anyway. The Android version of the app has a 'photo' option so you can take a photo of a poster, email or letter that you don't understand and highlight the text you want to translate. It can also show a translation in large letters so you can quickly show someone a word you only know in your own language.
TransferWise
A money transfer service so you can move money between bank accounts in different countries, but without the huge fees that banks charge. It was started by Taavet Hinrikus who was the first employee at Skype, and only charges £1 for transfers up to £200.
Time Out app
Find things to do locally using the 'Inspire Me' tab on the Time Out app - includes art, theatre, restaurants and many more things to do. You can also find more free things to do on the Visit London website.
International Student Identity Card
Get an ISIC card for discounts on shops, museums, cinemas, Lonely Planet travel guides, and more.
Key information
Expat Arrivals contains all the essential information about the UK
Duolingo
A phone and web app for perfecting your language skills, you can compete against your friends to earn points. Learn a little bit more every day and reach the top of the leaderboard. There's now a $20 test called the Duolingo Test Centre you can take to get a language certificate similar to IELTS, which is beginning to be recognised by universities around the world.
Facebook
The social media giant is very helpful for finding the student union and international student pages for your university.