Joan Rivers has been moved out of intensive care and is "being kept comfortable" in her own private room in New York's Mount Sinai Hospital, her daughter has confirmed.
The comedy veteran was put on life support last week, after she stopped breathing and suffered cardiac arrest during an operation on her vocal cords at a clinic in Manhattan.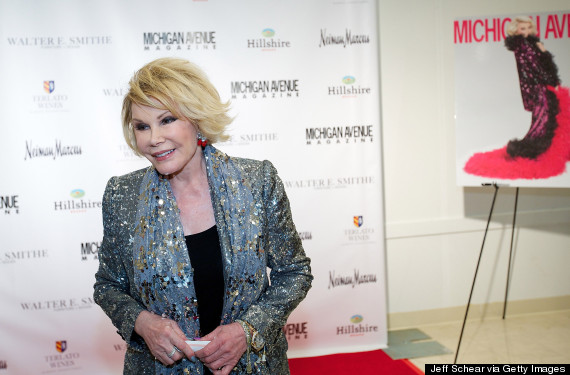 Joan Rivers
Melissa Rivers, Joan's daughter and an executive producer on her show 'Fashion Police' gave a statement on Wednesday evening, where she thanked fans and well-wishers for their "continued support", and said: "My mother has been moved out of intensive care and into a private room where she is being kept comfortable."
No other comments were made about the state of Joan's current condition, but an update on Tuesday confirmed that Joan was still on life support at that time, though it had been thought that doctors were planning to try and bring her out of her medically-induced coma this week.
Meanwhile, her representatives have denied reports from earlier this week that her family were "considering taking legal action" against the clinic where she had the vocal cord surgery, after a source told New York Daily News: "The night before she was performing and now she is on life support.
"An 81-year-old should not have that procedure as an outpatient. Very ill-advised."
During her time in hospital, Joan has received support from a number of stars, including her 'Fashion Police' co-presenter Kelly Osbourne, fellow comedian and close friend Kathy Griffin and 'Girls' actress Lena Dunham.
LIKE US ON FACEBOOK | FOLLOW US ON TWITTER