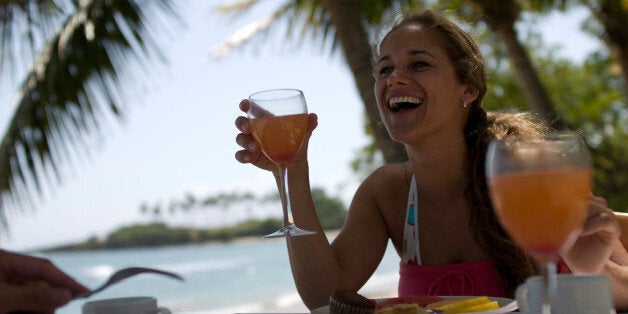 With an average annual temperature of 25 degrees, stunning beaches and great nightlife, it's tricky to work out why you wouldn't want to go on holiday to the Dominican Republic.
Boasting access to tranquil spots, as well as great nights out, this Caribbean nation on the island of Hispaniola, is hugely popular with groups and couples alike.
You'll be swigging the local beer Presidente in no time, as you work out whether to save yourself till later, or just succumb to the delights of beach bar.
But this island ain't just for party lovers. It's also home to some of the most beautiful natural wonders in the Caribbean.
The North Atlantic population of humpback whales migrates into the Bay of Samana to calve or mate, every year from December to early March. And the Dominican Republic recently created the world's first Whale Sanctuary. There are many whale tours to go out on, so don't forget to check one of them out between cocktails.
Another popular attraction is the small island of Cayo Levantado (just one kilometre square) located at the entrance of the Samana Bay. Just a fifteen minute walk from end to end, it's the ideal place to escape for one day and contemplate existence. As well as sunbathe, of course.
The island is also known as Bacardi Island because their palm trees appear in advertisements for the well-known brand of rum. So once on the island, the natives typically offer food and... beverages, often accompanied by music!
While culture vultures will absolutely love a visit to the city of Santo Domingo. Tourists are regularly told to follow in the footsteps of the island's first tourist (Christopher Columbus in 1492!) down the cobblestone streets of the oldest city in the 'New World'.
The city has many famous historical sights including the palace, the first cathedral of its kind in the region, and the first hospital. It's also a terrific place to sit back and watch the hustle and bustle of Dominican Republic life go by.
Dotted throughout the Dominican Republic's breathtaking surroundings are an extraordinary variety of the hottest and newest hotels ranging from luxury resorts to boutique properties. So whether you fancy a hotel with colonial charm, or high-end luxe, there are plenty of options.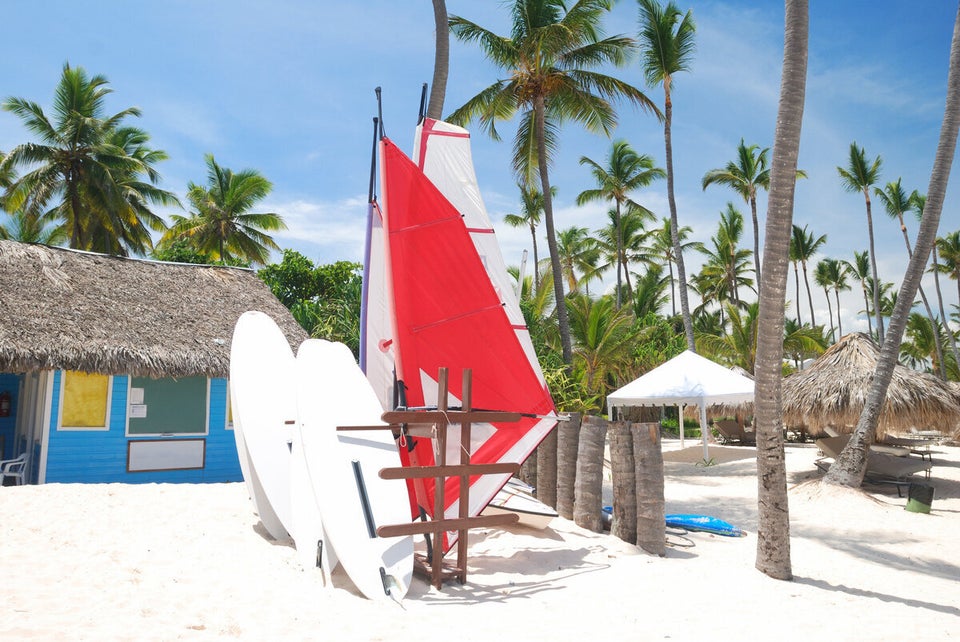 More Fantastic Reasons To Visit Dominican Republic
Another terrific way to acclimatise to local life is by eating the food.
Dominican cuisine is heavily influenced by Spanish cooking with added touches of Caribbean herbs and spices. Look out for dishes prepared "a la criolla" or "guisado". These are meat (beef, pork, chicken) or seafood (shrimp, crab, conch) prepared in a tomato-base sauce with garlic, onions, olives and cilantro. Yum.
Favourite desserts include "dulce de leche" (like a caramel sauce) and "dulce de coco" (sweet coconut). Fruits cooked in syrup are also popular, for example bitter orange, papaya, guava, cashew or pineapple.
Dominicans also have their favourite local drinks. As the country grows a lot of tropical fruits, there are plenty of fruit juices, which are often served as "batidas" with ice and sugar, and sometimes milk or ice cream.
For those who prefer something a little stronger, the Dominican Republic also makes its own beer, Presidente, and rum. And be warned, even the native coffee is strong!
After you've eaten and drunk your fill, you'll want to dance off those dishes. And there's no better weekend place than Imagine - a disco built into a cave in Punta Cana.
Alternatively, if you hit the island on a Sunday, just head to club Bonyé. Located in the ruins of Ruinas del Monasterio de San Francisco, you'll love what happens after dark in this old cathedral!
Isn't it time to start looking for flights at BA.com?
Find out more about about the Dominican Republic here.