A friend of the family of murdered journalist Steven Sotloff has challenged the leader of Islamic State (IS) to a debate about the religion, pledging to "come in peace" while asking "where is your mercy?"
IS released a video this week purporting to show the execution of Sotloff - two weeks after a similar one that showed the killing of fellow journalist James Foley - as the West decides how to respond to the threat posed by the militants who have murdered and plundered their way across northern Iraq.
Speaking in Arabic after reading a tribute from Sotloff's parents, Barak Barfi said: "I have a message to Abu Bakr Al-Baghdadi.
"You said Ramadan is a month of mercy but where is your mercy? You speak of Islam and the Holy Koran but I know the Koranic verses."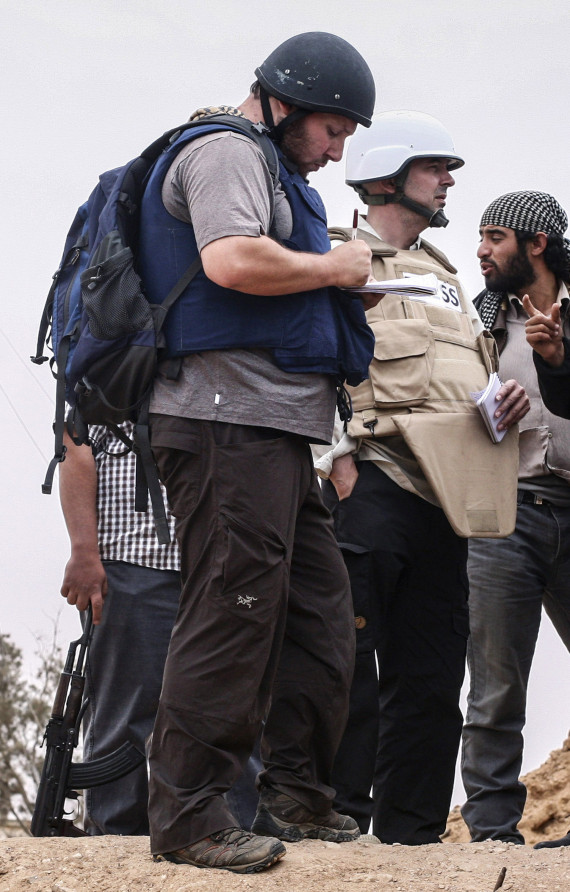 Steven Sotloff
SEE ALSO: Abu Bakr al-Baghdadi Gives Chilling Warning To Muslims In First Video
He then quoted from the Koran and asked Al-Baghdadi why he had violated its tenets.
"I am ready to debate you. I come in peace, I don't have a sword in my hand, I am ready for your answer," he said.
Barfi had read from a statement in which Sotloff's parents that described him as having a "gentle soul" and someone who "tried to find good concealed in a world of darkness".
He read the statement in English, saying Sotloff had been "torn between two worlds" and would have been content playing golf, watching South Park and eating junk food but "the Arab world pulled him."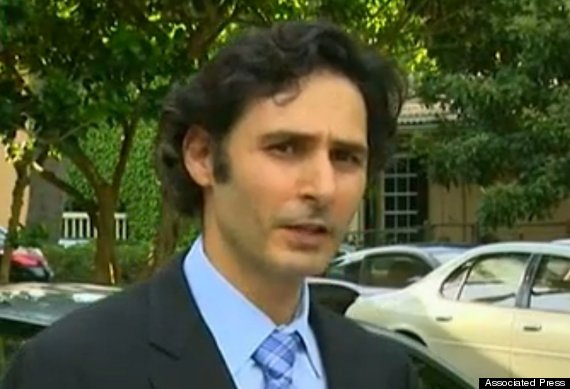 Barack Barfi told the IS leader 'I am ready to debate you'
"He was no war junkie. He merely wanted to give voice to those who had none," Barfi said to assembly reporters outside Sotloff's parents' Miami home.
He ended the statement with a comment in Arabic, saying: "Steve died a martyr for the sake of God."
Barfi had worked with the family to secure Sotloff's release since his disappearance in Syria in August last year.
Al-Baghdadi is the elusive leader of IS who has only made one public appearance - a video showing him giving a sermon at a mosque in Mosul, Iraq's second city, which fell to the militants earlier this year.
In the video of Sotloff's murder, IS warned a British hostage - aid worker David Cawthorne Haines - would be next.
STEVEN SOTLOFF:
David Cameron and Barack Obama have meanwhile insisted the the West will not be "cowed" by the "barbaric killers" of IS, as world leaders gather for the NATO summit in Newport.
"We will not waver in our determination... If terrorists think we will weaken in the face of their threats they could not be more wrong," they said in a joint article for The Times (£).
"Countries like Britain and America will not be cowed by barbaric killers. We will be more forthright in the defence of our values, not least because a world of greater freedom is a fundamental part of how we keep our people safe."
Britain must "use everything we have in our armoury" to destroy IS, Cameron said this morning: "I'm certainly not ruling anything out and I will always act in the British national interest," he said.
"What I would say, though, is this - I think it is very important that Western intervention isn't over the heads of those locally trying to fight this organisation and isn't done against the wishes and against the work of regional partners.
"That is sometimes the mistake that has been made in the past.
"The first thing we should do is help those on the ground fighting this organisation.
"Britain has been helping get arms to the Kurds and we are prepared to do more and we are considering actively whether to give them arms ourselves and whether we can do more directly to train Kurdish militia.
"We are already helping there, but we can do more."
But he added that Britain would not pay ransoms for hostages, and took a swipe at Western nations which have done so.
"I am absolutely convinced that the policy of not paying ransoms to terrorists for kidnaps is right," Cameron said.
"I'm in no doubt that when countries have allowed ransoms to be paid, that has ended up in terrorist groups - including this terrorist group - having tens of millions of dollars that they can spend on kidnapping other hostages, in preparing terrorist plots, including against us here in the UK and in buying arms and weapons to wreak havoc."