For many, student housing means mouse droppings, faulty electrics and mould. But, for a growing elite, it now features everything from gyms and spas to rooftop terraces and cinema rooms.
The new souped-up student digs are a far cry from the normal standard of living, which was for so long considered a rite of passage, typified by TV series such as The Young Ones and Fresh Meat.
Now, some rich students - or rather their parents - are spending in excess of £400 a week on accommodation, while many of their less privileged peers can barely afford to eat.
Companies are taking advantage of the shortage of accommodation in the UK and fast expanding their portfolio. And, as demand shows now sign of slowing down, this is only the beginning.
Private student accommodation providers iQ now owns a portfolio of 5,183 bedrooms across 13 properties located in nine UK cities, with a value of more than £430million.
A spokesperson for iQ, which was acquired by the Wellcome Trust charity earlier this year, told HuffPost UK: "All of our locations have reached an average occupancy of 99% or above for the last three years and is expected to be matched again this year. Some cities have more of an under-supply of accommodation which drives the market earlier in the year – Bristol and Sheffield being good examples.
"iQ are continuously looking to for new opportunities to expand the portfolio."
Helen White, brand and communications director at Vita Student told HuffPost UK: "Vita Student's customers are 30% UK and 70% international residents. Of those 70%, the majority are from Asia and Europe. Our UK residents tend to be post-grads and 2nd and 3rd years while our international customers are from all year groups.
"[We] currently have residences in Liverpool, Manchester, Bristol, Southampton and Exeter, with Sheffield opening in September 2015 and Newcastle in September 2016."
Story continues below gallery..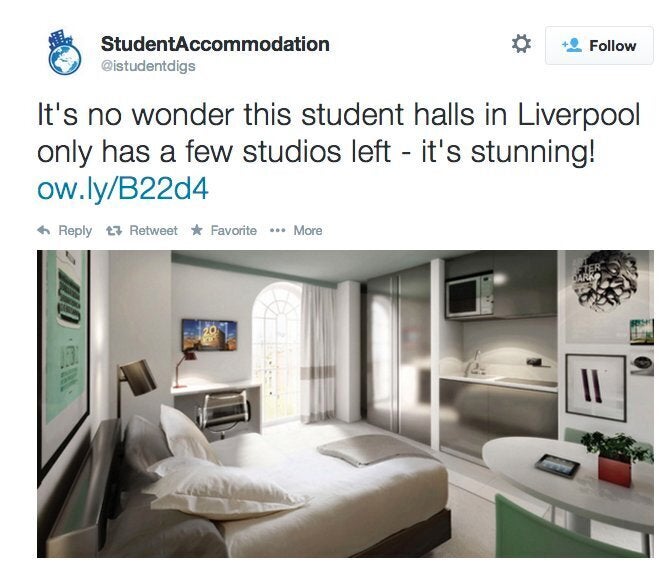 It may seem surprising students are looking to live in increasingly more extravagant accommodation following the rise in tuition fees, but according to iQ, their standards are rising.
The developer added: "Attitudes towards student accommodation have been changing from the stereotypical 'grungy student digs' of the 90s and early 00s since long before the tuition fee rise. As people are investing more in their education, having a secure, well designed living space that is easy to study in has become more important to many students."
But as wealthy students fight for a studio with London skyline rooms, private gyms and porters, their less well-off peers are struggling to survive.
A report published by the Money Charity in August revealed students were being "set up to fail" by expensive accommodation which, in some cases, amounted to two thirds of the student loan living support.
One student from York was made to live off £21 a week, which had to cover food, bills, books and train tickets home.
Chief executive of the charity Michelle Highman told HuffPost UK the high prices were "irresponsible".
"A property costing £419 a week would mean a student receiving the minimum loan could only live in the accommodation for nine weeks before their loan money ran out.
"After the nine weeks they would become completely reliant on parental support, part-time work, or worse, credit. It is irresponsible of student accommodation providers to normalise student accommodation at this price, asking students to aspire to a way of living that is completely unrealistic for most without relying on credit.
"How can we expect people to be responsible savers, credit users and planners if staying out of the red at university is impossible?"
Shelter's chief executive Campbell Robb said: "We often hear from students dealing with issues like poor conditions, unprotected deposits and unfair terms in tenancy agreements, as well as extremely high letting agent fees.
"Thousands of students who are struggling with housing problems have visited Shelter's website in the last year alone. We'd urge any first time renters to learn as much as they can on how to escape common pitfalls, and seek advice early if they start having difficulties."
All the developers featured in this article were contacted for comment, but at the time of publishing, had not replied.