Joan Rivers' funeral will take place over the weekend in New York City, it has been revealed.
The service for the comedy icon, who died in hospital on Thursday at the age of 81, will be held in Manhattan's Temple Emanu-El on Sunday, a spokesperson for the synagogue has said.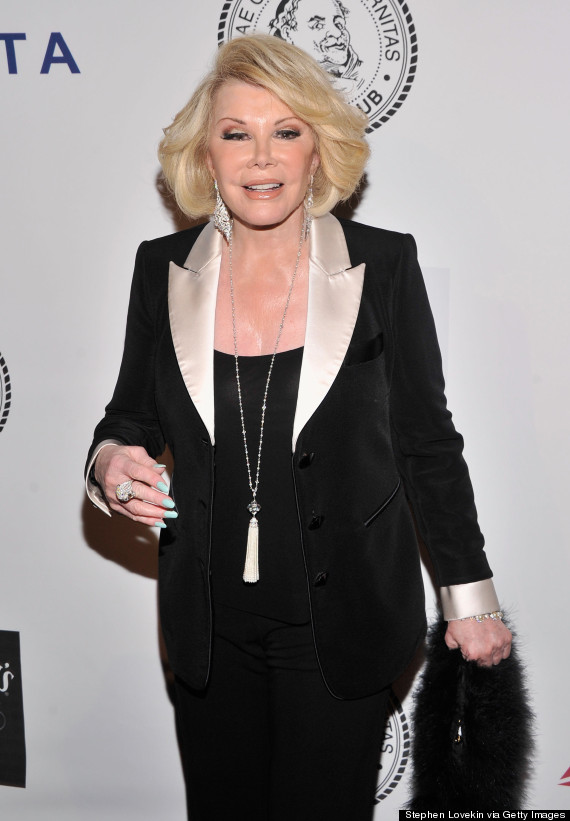 The incomparable Joan Rivers
While no other details have yet been disclosed about the funeral, Joan had a few ideas of her own about how things should go when she was laid to rest, and they are every bit as fabulous as the woman herself.
READ MORE:
Writing in her collection of essays 'I Hate Everyone...', which was published last year, Joan joked: "When I die (and yes, Melissa, that day will come; and yes, Melissa, everything's in your name), I want my funeral to be a huge showbiz affair with lights, cameras, action… I want Craft services, I want paparazzi and I want publicists making a scene!
"I don't want some rabbi rambling on; I want Meryl Streep crying; in five different accents.
"I want to look gorgeous, better dead than I do alive.
"And I want a wind machine so that even in the casket my hair is blowing just like Beyoncé's."
The entertainment legend died a week after being taken into hospital when she suffered cardiac arrest and stopped breathing during an endoscopy on her vocal cords at a New York clinic.
Stars of stage and screen - including her fellow comedians Kathy Griffin, Whoopi Goldberg and Ricky Gervais - have been paying their respects to Joan online following the news of her death.
LIKE US ON FACEBOOK | FOLLOW US ON TWITTER