Piers Morgan has confirmed he has visited Belmarsh Prison to see his friend and fellow former News Of The World Editor, Andy Coulson.
David Cameron's former director of communications, who is serving 18 months in prison, was jailed for conspiring to hack phones in July.
Morgan, who left CNN earlier this year, is well known for updating his four million Twitter followers frequently, but initially made no mention of his visit to Coulson, leading the New Statesman's Commons Confidential column to suspect he may have been a little embarrassed of the meeting.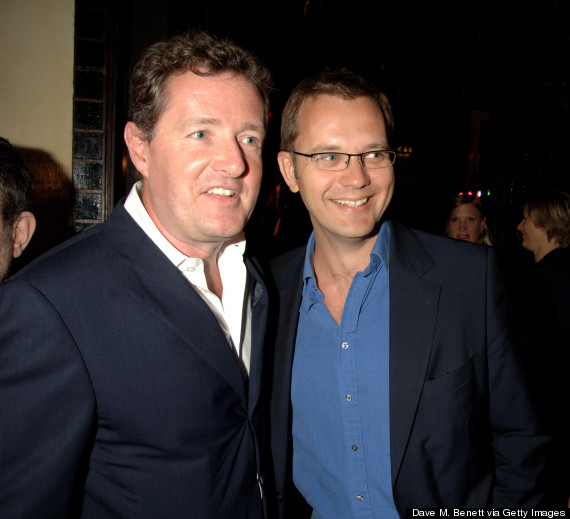 Morgan and Coulson at the launch of one of Morgan's books in 2007
"Morgan broadcasts almost every aspect of his life on Twitter but curiously found no time to record his time in jail with a hacked-off old pal," writer Kevin Maguire quipped.
But Morgan responded by tweeting today that he was happy for the news to be out:
No secret, happy to visit my friend > RT @Kevin_Maguire Coulson's prison visitor http://t.co/mcXQbQB3Qg

— Piers Morgan (@piersmorgan) September 5, 2014
Morgan defended Coulson when he was convicted, tweeting: "So sad for my friend Andy. A good man, who I will always support."
The visit came before Coulson was moved this week from London's Belmarsh to Hollesley Bay open prison in Suffolk, nine weeks after being convicted of a phone-hacking conspiracy.
Morgan, who also previously edited the Daily Mirror, was himself questioned by police over phone hacking in February, but was not charged with any offence. He has always denied any involvement in hacking.
Prime Minister David Cameron is still yet to visit his former spin doctor Coulson, according to The New Statesman.
Morgan took over from Larry King to host CNN's evening talk show, but his programme was axed in March after falling ratings.
He officially confirmed he was no longer a CNN employee and has left the network for "pastures new" on 2 September.