A man who died in a shark attack at a popular Australian beach has been named as British expat Paul Wilcox
Mr Wilcox was reportedly found floating near Clarke's Beach at Byron Bay, a beauty spot beloved by tourists and locals alike.
The shark, believed to be a great white, attacked him just 15 to 20 metres from the shore. His wife desperately dragged him on to the beach but he died of blood loss, the Sydney Morning Herald reported.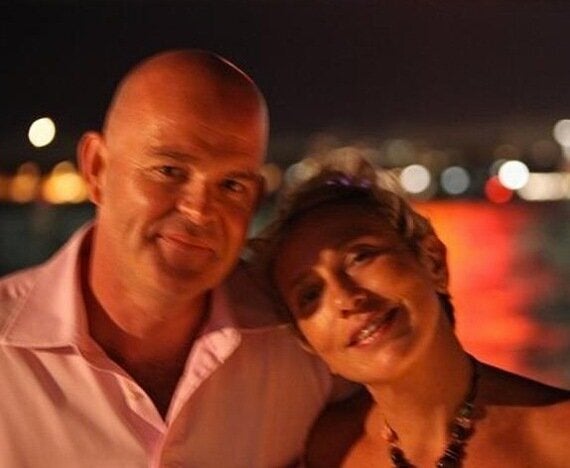 Paul Wilcox with his wife Victoria
An ambulance was called and a doctor performed CPR on him but he could not be saved, a statement from emergency services said.
Eyewitnesses said they had seen a "six to seven feet" long shark nearby when the man was discovered.
A photo was circulated that purportedly showed the large shark in the area at the time.
Local media reported Mr Wilcox may have been surfing at the time but lifeguards said he was swimming.
"He was seen floating in shallow water, close to the shore line, and dragged onto the beach where off duty lifesavers treated him until emergency services arrived who pronounced him dead a short time later."
Paddle-boarder Mark Hickey, who was on the shore when it happened, said he helped pull the man to the shore.
"The shark came back to him and had another go. I didn't know it was a person but when I realised I ran out and waded to the bank and grabbed him and did CPR, but it was too late."
The area is generally regarded as safe from shark attacks and the patrol seasons to deter them does not start until later this month.
The statement from Surf Live Saving NSW went on: "As the official patrol season does not start until the 20th September beaches are not currently patrolled in Byron Bay but at the council's request, lifeguards will be on duty for at least the next 24 hours ensuring the water remains clear from Belongil Beach to Tallows Beach across Byron Shire Council.
"Lifeguards are also patrolling the water on a jet ski in the same area.
"It is advised that people stay clear of the ocean within this region until NSW Police deems it safe to return."