On Friday, October 24, celebrities including Kirstie Allsopp, Alex Jones, Rebecca Adlington, Eliza Doolittle and Lauren Pope are joining forces to look good and do good, uniting in support of this year's Wear It Pink campaign.
Not only is the occasion an excuse to flaunt your passion for pink (and a chance to bin the beige clothing!), taking part in Wear It Pink raises crucial cash for Breast Cancer Campaign, which funds world-class research in the UK and Ireland, which helps save lives and gets us closer to overcoming breast cancer.
The five famous faces supporting this year's Wear It Pink are campaigning to help raise awareness about the importance of breast cancer research. Breast Cancer Campaign - and their celebrity supporters - are committed to helping save lives in style by urging people to get involved in the fundraising at www.wearitpink.org.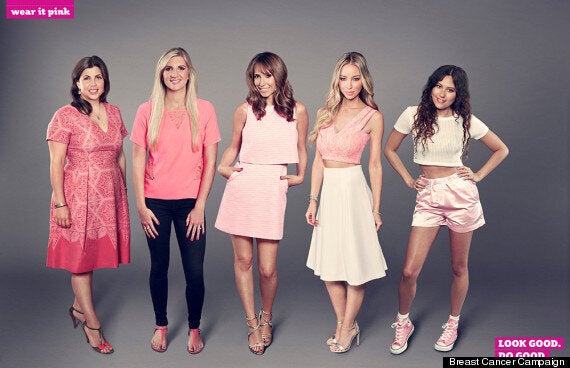 "It's so easy to get involved in Wear It Pink," explains property expert and crafts queen Allsopp. "You can, like me, go all out with a fabulous pink dress or simply highlight your outfit with pink accessories and, men, it's easy for you too - pink socks or a tie always looks great! It's all for such an amazing cause, raising vital funds for essential work carried out by Breast Cancer Campaign."
The TV presenters, Olympians, DJs and musicians supporting Wear It Pink all donned their favourite pink clothes and accessories for this year's photo shoot. They were all showcased at work: Rebecca in a pink swimming costume in the pool, Eliza in a pale pink cropped tee, pink satin shorts and pink Converse high-tops in the recording studio, Lauren in a pink crop top and pleated skirt on the turntables, Alex in a pink tank and mini-skirt on the presenter's couch and Kirstie in a printed pink dress, sewing on the couch.
"Wherever you are, whatever you're doing, it really is possible to add a touch of pink to your outfit on October 24th. Come on everyone, get involved and help us to make this the most successful Wear It Pink ever!" urges Olympic gold-medallist Adlington.
Whether you want to throw your own Wear It Pink party, host a cake sale in your office or organise a clothes swap with your friends, taking part in Wear It Pink is easy and fun and anyone, of any age, can get involved.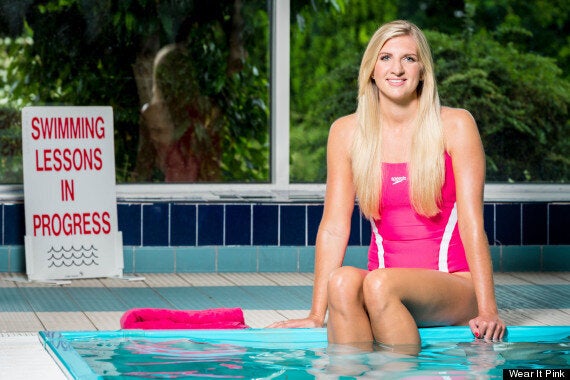 Click through the slideshow below to see all of the stars look good and do good for Wear It Pink.
Sign up here for your free Wear It Pink magazine, packed with fashion and fundraising tips and get all of the latest info @BCCampaign and #wearitpink
To donate now, text HUFF to 70660 to donate £3 to beat breast cancer
Texts cost £3 plus network charge. Breast Cancer Campaign receives 100% of your donation. Obtain bill payer's permission. By using this service, you agree that we may contact you in future. If you'd rather we didn't, text NOCALL to 70004. Customer Care 020 7749 4114. Registered charity no. 299758.