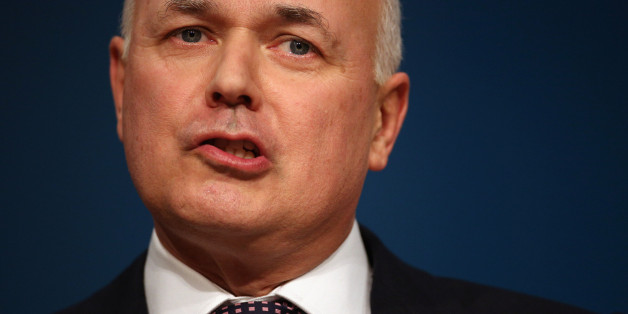 Oli Scarff via Getty Images
Iain Duncan Smith's flagship welfare policy, universal credit, is in danger of costing more than planned as it has a perverse incentive for people to limit their working hours in order to keep receiving benefits, a think-tank has said.
The Resolution Foundation said that families lose two-thirds or more of each extra £1 of earnings above the "work allowance" introduced under universal credit, up to 20 to 26 hours on the minimum wage.
"This does not represent a significant improvement in work incentives compared to the current system and for significant numbers is, in fact, worse," it said.
Duncan Smith's Universal Credit scheme aims to cut costs by rolling six means-tested benefits and tax credits into a single monthly payment, however its rollout has been dogged by delay due to IT problems. By this April, at least 1 million people were supposed to be claiming universal credit, but only 7,000 were actually on it.
The think-tank noted that the scheme removed the "particularly large incentive" in the current system to work at least 16 hours a week – rising to 24 hours for couples with children – in order to get the Working Tax Credit.
It also warned that the rise in the number of self-employed people and persistently low pay risked further increasing the cost of Duncan Smith's universal credit scheme.
See also:
The Resolution Foundation's findings came as it launched a study into the flagship welfare reform, bringing together an expert panel of labour market economists, welfare specialists and employment practitioners. The panel includes Professors Mike Brewer and Paul Gregg, Grainia Long, chief executive of the Chartered Institute of Housing, and Ian Mulheirn, associate director of Oxford Economics.
In response to the Resolution Foundation, a spokesperson for the Department for Work and Pensions said: "Universal credit is already making work pay as we roll it out in a careful and controlled way and ensuring that claimants do not face the benefits cliff edge of the past. By the time it is fully operational some 3 million households will be better off by an average of £177 a month.
"It is right that Universal Credit provides the most incentive to those on the lowest incomes and the vast majority of those who gain are in the poorest 40 per cent of households. Furthermore, half a million working families will receive help with child care with Universal Credit helping them to get more out of the money they earn."