Domestic violence is no laughing matter. But try telling that to Fox News hosts Brian Kilmeade and Steve Doocy, who recently cracked jokes - live on air - about the violent attack on Janay Rice by her husband, the now-suspended NFL player Ray Rice.
The footage shows Ray punching his partner in the face, knocking her unconscious and dragging her out of the lift back in February 2014.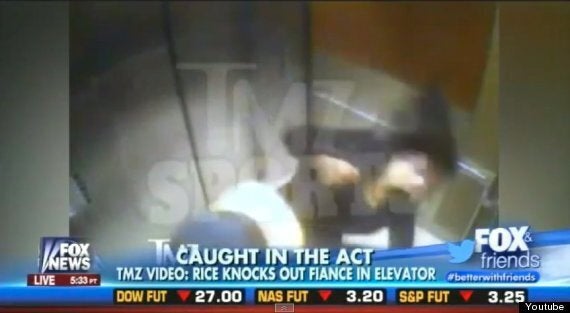 The Fox report starts off reasonably enough - hosts label the attack "shocking" and express their outrage at the player's initial two-match ban (when another video showed Rice pulling his fiancee out of the lift unconscious). But it soon goes downhill.
After clumsily connecting the domestic violence dots to when Solange attacked Jay-Z in a lift after the MET ball earlier this year and victim-blaming Janay for marrying Ray after the attack (a move compared to when Rihanna took back Chris Brown), the two male hosts of 'Fox & Friends' conclude that there are two main lessons to be learned from the Rice attack.
"The message is... take the stairs," jokes Brian Killmeade.
To which Steve Doocy quips: "The message is when you're in an elevator, there's a camera."
Because, as these guys know, there is nothing funnier than a woman get knocked unconscious by her partner. Amiright?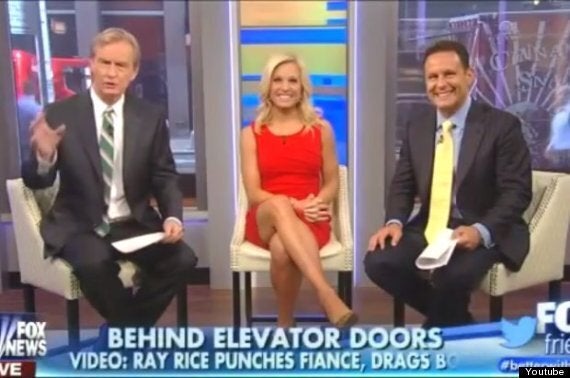 To state the obvious domestic violence is no laughing matter. It kills two women a week in England and Wales, and hundreds of thousands of women live in fear of their partner.
We spoke to Women's Aid about the dangers of making light about abuse.
"Joking about domestic violence trivialises it, and allows abusive men to feel that their behaviour is accepted by society," Polly Neate, Women's Aid chief executive told HuffPost UK Lifestyle. "It sends a message to abused women that domestic violence is not taken seriously, and reduces the likelihood of them telling anyone or seeking help."
She adds: "Many people do not understand how difficult it can be to leave an abusive relationship, when your self-esteem has been shattered and you are scared of your partner. People can judge women in abusive relationships without understanding the issues or level of danger involved in her trying to leave. One of the reasons women do not tell anyone they are being abused is because they don't think people will understand or will judge her."
And it's not just women who suffer domestic abuse. According to ManKind, a domestic violence charity for men, 38% of victims are male.
"After the attack, the question trending on social media was 'what did Jay-Z say to Solange?'. If it was the other way around and Jay-Z had attacked Solange, people would have been asking very different questions."
"Over the past 20 years there have been huge strides towards publicising the issue of domestic violence against women, but that isn't true of male victims," says Mark. "This is something we're seeking to address at ManKind."
Related