Animal lovers have united to use the power of social media to help raise more than £700,000 in donations after an arson attack killed more than 60 dogs - and the donations are still flooding in.
Firefighters were called to Manchester Dogs Home shortly after 7pm yesterday when a fire broke out in a kennel section. Local residents said they could hear "dogs yelping" as the devastating fire spread.
Hundreds of residents flocked to the site in Moss Brook Road with dog blankets, cages and food, with some reportedly rushing into the blazing building to help save some of the animals.
The story continues under the slideshow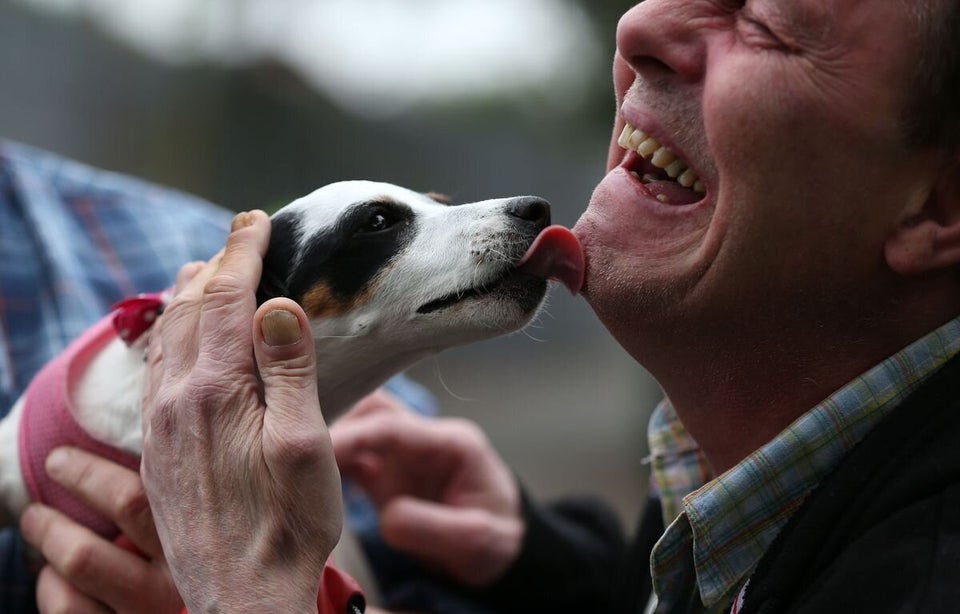 Manchester Dogs Home fire
Jason Dyer, 41, and his nephew Dean Rostock, 25, described how they brought the terrified animals to safety after seeing the fire.
Jason said: "All the windows of where the dogs are advertised for sale were blown out and the ceiling was collapsed.
"We initially ran into the bit that was on fire but we couldn't get those dogs out. We went to the other kennels and began kicking out the doors. We just wanted to get them out.
"This place is part of our childhoods. We both have dogs and love dogs - of course we are going to run in there. We just wanted to make sure as many as possible would be okay."
About 150 dogs were rescued, with many moved to the charity's sister home in Grappenhall, Cheshire.
On its Twitter page, Manchester Dogs Home responded to the flood of donations and help.
Today, Greater Manchester Fire and Rescue Service (GMFRS) said the number of dogs that have died so far is 53.
More than 30 firefighters brought the blaze under control with damage caused to about a third of the kennels.
A 15-year-old boy is being questioned on suspicion of arson as a joint investigation by Greater Manchester Police and GMFRS gets under way.
A number of JustGiving accounts were set up in the wake of the blaze with more than £260,000 raised on one set up by the Manchester Evening News and another £20,000 by local radio presenter Chelsea Norris.
Mr Farrar told the Huffington Post UK he hoped to capitalise on the recent success of the ALS Ice Bucket Challenge to help out the stricken Manchester mutts.
"It knocked me sick when I saw the story," he said, adding that he hoped the viral nature of the money-raising campaign would help to to rebuild the home and get it back to it's former glory.
"I thought there was an opportunity to get my local community in Wythenshawe involved and donating, and well it's spiralled and it's been unbelievable," he said.
The fund set up following last night's fire is incredibly now heading towards a £1 million target.
Last night, Anna Stansfield, manager of Cheshire Dogs Home, described the blaze as "soul destroying" and added all the rescued dogs would be transferred to its site in Cheshire.
She said she could not comment on the circumstances of the blaze but confirmed that four members of staff were working there at the time.
Ms Stansfield said: "I cannot describe what we have seen tonight. It's soul destroying."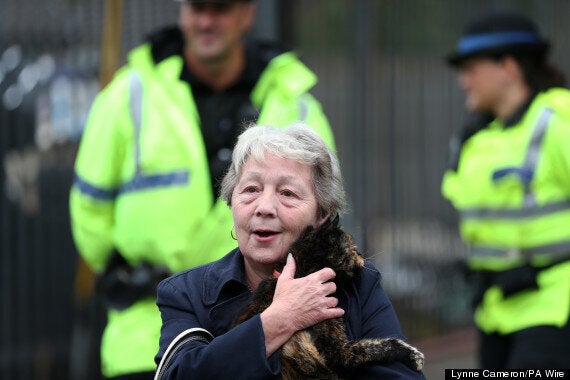 A woman is reunited with her cat from a house next to Manchester Dogs' Home
Superintendent Marcus Noden, of Greater Manchester Police, said: "We are working closely with Greater Manchester Fire and Rescue Service to establish how this tragedy has occurred.
"We are in the very early stages of the investigation and have a young boy in custody, however we would ask if anyone was in the area and remembers seeing anything suspicious around the dogs' home that they call police and tell us what they know.
"As a dog owner myself I understand that many people will feel angry and upset about what has happened but I would ask that they let the police carry out their investigations and not take matters into their own hands.
"We have received an overwhelming response from the public and would ask if anyone wants to help they can make donations of food or bedding to North Manchester divisional headquarters on Northampton Road in Newton Heath."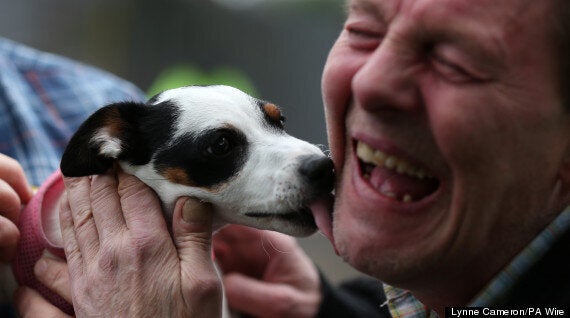 Misty the Jack Russell is fussed over by local resident
GMFRS station commander Paul Duggan said that some parts of the roof of the single-storey kennel section had collapsed and firefighters were working to ensure it was made safe before assessing the full damage.
Manchester & Cheshire Dogs' Home opened in 1893 and has re-homed more than one million dogs.
The registered charity is said to care for more than 7,000 stray and unwanted dogs each year and manages to re-home 95% of them.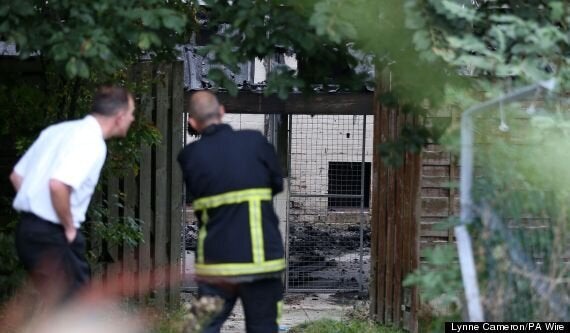 Emergency services at the scene at Manchester Dogs Home
Among those donating on the home's JustGiving account were Dominic Hunt who wrote: "Heartbreaking. I wish I could give more" and Susan and Leanne Gresty, who said: "There are no words to describe the sadness we are feeling for the poor little animals who have lost their lives and those that are suffering tonight."
Singer Jodie Prenger, a patron for Manchester & Cheshire Dogs' Home, tweeted: "All my thoughts are with you guys. It's broke my heart to hear such sad news."
Battersea Dogs & Cats Home said it was "incredibly saddened" to learn of the fire. A spokeswoman said: "We extend our deepest sympathies to all the staff and volunteers at the centre.
"We understand this tragic incident may have led to the loss of life of several rescue dogs.
"Battersea is very willing to help in any way we can over the coming days and weeks and we have attempted contact with the Manchester rescue centre to see how we can support them at this difficult time."
Popular in the Community