A former general's claim that voting Yes to Scottish independence would "let down" Scots who fought in Northern Ireland to preserve the UK is "bordering on being offensive and insulting", Deputy First Minister Nicola Sturgeon has said.
Lord Dannatt, who was chief of the general staff between 2006 and 2009, made a personal plea to Scots for a No vote in the Sunday Telegraph, stating more than 100 Scottish members of the armed forces had fought and died defending the UK during the Troubles.
He said: "Do the families of Scottish soldiers who lost their lives between 1969 and 2007 to preserve the territorial integrity of the United Kingdom now just say, "Well, it no longer matters"?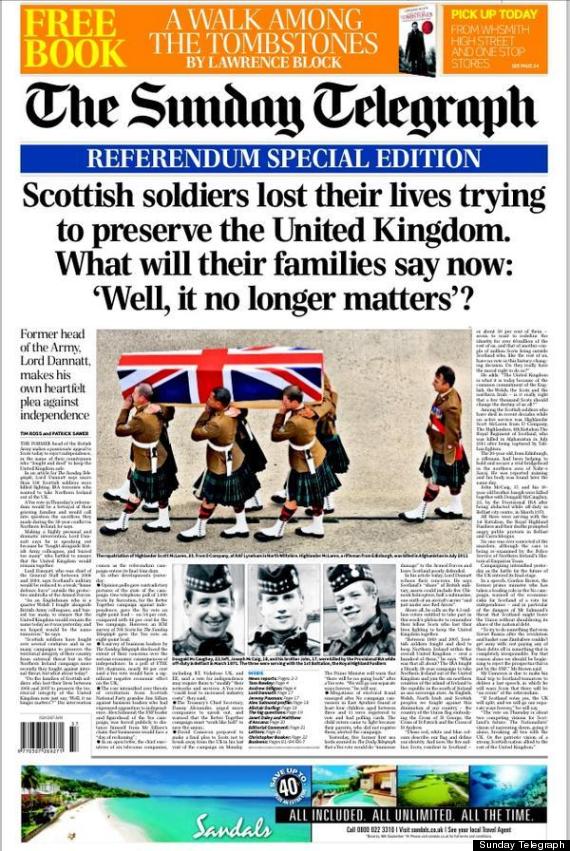 The Sunday Telegraph Today
"I cannot speak for them, but I wonder just how much thought, appreciation and recognition is given to the memory of those who have fought and brought this United Kingdom of ours to where it is today, and where it could be in the future.
"And I really worry on behalf of the wives, mothers and friends of those Scottish soldiers who died to keep Northern Ireland in the United Kingdom.
"I worry particularly about the extent that we will be letting them down if Scotland disappears from our country, just on the whim of a few thousand voters willing to gamble on an uncertain future rather than staying within the United Kingdom, whose track record is second to none in Europe."
Appearing on Sky News' Murnaghan Programme this morning, deputy first minister Nicola Sturgeon said the commented bordered on being offensive.
Shadow Foreign Secretary Douglas Alexander, who opposes independence, said he was "surprised" by the line Lord Dannatt had taken.
Reactions on social media to Lord Dannatt's comments were overwhelmingly negative.
If Scotland votes Yes the only person saying Scottish soldiers lost their lives in vain is their own General Dannatt. Never forget.

September 14, 2014
It's really dreadful of Lord Dannatt to continue to hold this offensive line about dead service personnel on #murnaghan. Beneath our debate.

— Alex MacLeod (@alexlmmacleod) September 14, 2014
The roll of honour from just two small Scottish villages . Lord Dannatt should hang his head in shame . pic.twitter.com/FFKGAyY517

— Kenny MacAskill SNP (@KennyMacAskill) September 14, 2014
There is a defence argument for UK but cant help feeling Lord Dannatt's "our boys died protecting Union against IRA" is tasteless

September 14, 2014
Lord Dannatt added he felt defence was the "weakest link" for an independent Scotland.
It comes after a host of senior military figures have raised concerns about independence in relation to the country's defences in the months leading up to the crucial vote, with former Nato commander General Sir Richard Shirreff even branding it "dangerous".
But Angus Robertson, the SNP's defence spokesman, responded: "A dangerous and amateurish defence policy would be one that sent troops into an illegal war without proper equipment, while wasting tens of billions of pounds on Trident nuclear weapons that can never be used - that's the UK."