Cristiano Ronaldo is "fed up" at Real Madrid less than a year after signing a long-term contract with the European champions, according to the club's former president Ramón Calderón.
Despite speculation linking him with a return to Manchester United last summer, Ronaldo inked a five-year deal with Madrid and was rampant during their triumphant Champions League campaign.
Calderón has always claimed he signed Ronaldo, however he had been ousted as Real president when the returning Floréntino Perez announced the club had agreed a world record fee with United in 2009.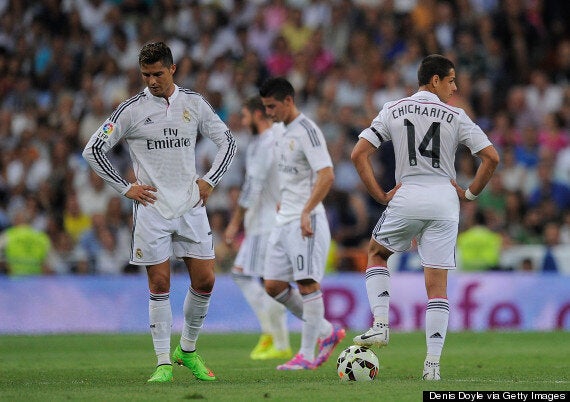 Real lost to Atlético again at the weekend
"My impression is he is fed up with the policy of the current president," Calderón told TalkSPORT. "When he came with Robben, he thought he would be a good colleague for him in the team.
"Higuaín was sold [last year] and he didn't like that. Last year he thought it was a mistake to let Özil leave and the last straw was selling Xabi Alonso and Ángel di María this summer."
Robben had actually joined Real two years earlier from Chelsea and Ronaldo's arrival in the Spanish capital hastened his transfer to Bayern Munich, however the wisdom Alonso and Di María's departures have intensified scrutiny on the top-heavy Galácticos after two consecutive La Liga defeats to Real Sociedad and Atlético Madrid.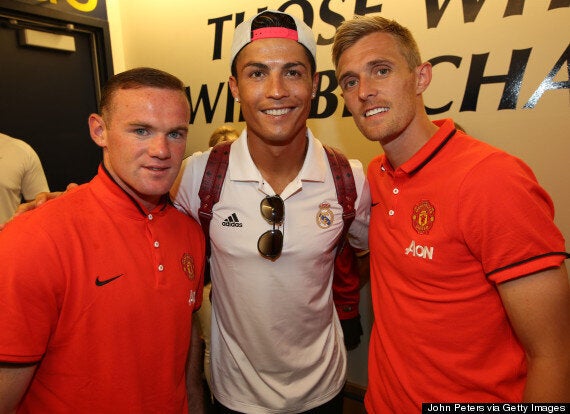 Ronaldo was reunited with former teammates during pre-season
Reports at the weekend linked Ronaldo, 29, with a move back to the Premier League and his agent, Jorge Mendes, could have a significant bearing on his client's future. Mendes oversaw United's signings of Di María and Radamel Falcao, and also brokered James Rodríguez, Diego Costa and Eliaquim Mangala's transfers. Between them, the quintet were sold for £195 million.
"When I signed him in 2009, I remember he said he was grateful to Manchester United," Calderón added. "He had a marvellous time there, he likes everything. It is a really great club."