Move over Pink Ladies, there's a new - and some might say, more colourful - apple on the block.
A new breed of yellow and orange-skinned apples with pink (yes pink!) flesh has been developed by an award-winning fruit grower from Hereford.
The bizarre-looking foodstuff, which will be trialled by 120 Tesco stores as of tomorrow, has been hailed as a "real head-turner". We can certainly see why.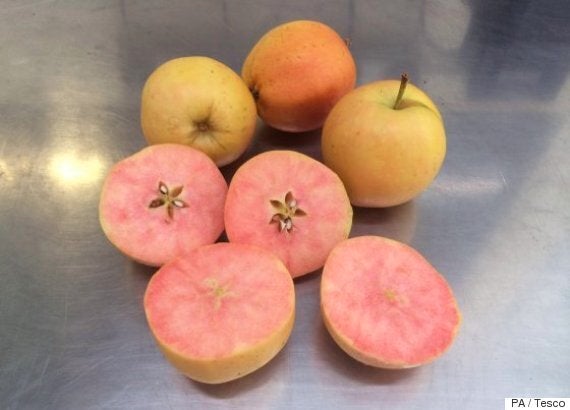 The unusual variety, which is aptly named Surprize, has been bred by apple expert William Barnett at a farm in Tillington, near Hereford.
Tesco fruit product developer Ciara Grace said: "This apple literally stops people in their tracks on account of its unusual pale orange and yellow skin.
"This is the first time that it's ever gone on sale and there are only limited supplies but if it's a success we will stock it again next year."
We're not sure whether the pink interior is more off-putting than anything else, but we guess the pretty colours might just help to coax children to get their seven-a-day?
What do you think? Would you try orange-coloured apples with pink flesh? Or would you run a mile? Tweet us @HuffPoLifestyle
Related