Nobody likes a bad loser, but try telling 'Come Dine With Me' contestant Heather Horsfall that.
Heather, from Basingstoke, took part in the latest series of the Channel 4 show that sees a group of strangers compete for the title of ultimate dinner party host.
But, after a dramatic few days on the show, which saw her clash big time with fellow contestant Zaira Sheikh, 'the lady of leisure who is not afraid to speak her mind' did just that.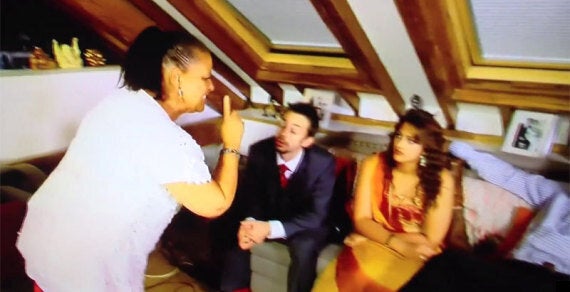 'Come Dine With Me' contestant Heather Horsfall reacts to coming last
When her dinner party guests, hospital radio DJ Zaira, landscape gardener Toby Pullen and fantasy novelist James Littleworth gave her evening the thumbs down, it resulted in the most spectacular finale in 'Come Dine With Me' history.
"I don't believe this, I really don't," she said, upon unravelling the scroll containing the results and discovering she had come in last place.
"You put me fourth. No, seriously, I think you all have obviously given me a low score," she added. "I'm really sad about that. You've really peed me off actually."
"Somebody's got to come fourth haven't they?" asked landscape gardener Toby, simultaneously introducing red rag to bull.
"No, because my food was better than any of yours. My presentation was amazing. Far better than any of yours. And I came fourth?" she asked.
We won't spoil what happened next but let's just say it includes fingers in faces, swearing and a good old fashioned flounce.