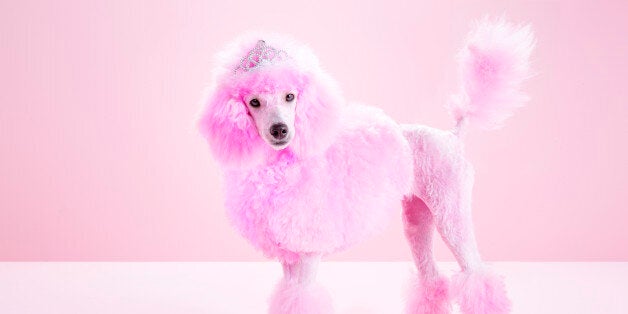 Since October is Breast Cancer Awareness Month, we're urging people to put on their pink ribbons and show solidarity with the women battling this disease (did you know that 1,000 women in the UK die from breast cancer every month?).
In fact, why not go one step further - and get friends, family and colleagues involved - by taking part and fundraising for this year's wear it pink campaign, to help raise money for breast cancer research and fund new treatment options that will help save lives.
Keen to get involved at work (from pink bake-offs to pink quizzes)? Here's everything you need to know.
On Friday, October 24, it's all about joining together to have fun, raise funds and wear it pink: whether you're hosting a clothes swap at work, organising a bake sale at school or ditching your classic black office ensemble at home and heading out in a bright pink jacket (with a swipe of pink lipstick to finish off the look).
One of our favourite ways to get involved? Host a pink party at home, however you like to party: you can treat your friends to pink manis and pedis. watch your favourite pink-themed movies (Pretty In Pink, The Pink Panther, or our personal favourite, Legally Blonde), or enjoy a karaoke night (it will give you the chance to belt out "pink" classics like 'Get This Party Started' by Pink, 'Pink Cashmere' by Prince and 'Lily The Pink' by The Scaffold).
Of course, you'll want to have pink-themed treats for your pink party, whether it's an afternoon tea with pink cupcakes and pink lemonade or an evening get-together with healthy snacks like smoked salmon canapés or beetroot salad (this delicious recipe for Beetroot Blinis is a must for any dinner party).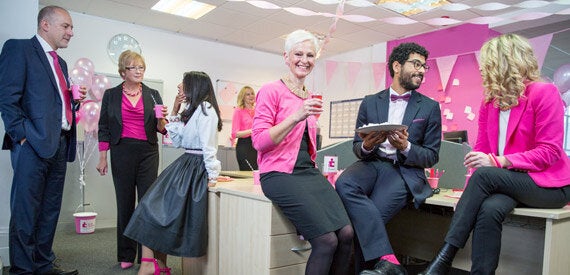 Whether you're a woman affected by breast cancer or just want to raise funds and awareness for the mothers, sisters, daughters, wives, friends and colleagues fighting the disease, taking part in wear it pink is an easy, fun and sociable way to fund-raise for a great cause.
Sign up today to wear it pink (at work, at home or at school) on October 24. For all of the latest info, check out @BCCampaign and #wearitpink
Time to get your best pink outfits out to look good and do good - while having fun with friends and family. Click through the slideshow below for fun and fabulous ideas on how to host your own wear it pink party.
For all the latest fundraising ideas and fashion tips on how to wear it pink, sign-up and receive your free fundraising pack here.
To donate now: Text HUFF to 70660 to donate £3 to beat breast cancer
Texts cost £3 plus network charge. Breast Cancer Campaign receives 100% of your donation. Obtain bill payer's permission. By using this service, you agree that we may contact you in future. If you'd rather we didn't, text NOCALL to 70004. Customer Care 020 7749 4114. Registered charity no. 299758.