Liverpool have recognised Jordan Henderson's revival at the club by making the midfielder vice-captain.
Henderson, a £16 million signing from Sunderland in 2011, experienced a miserable first couple of years and was in danger of joining the mass exodus, as Brendan Rodgers sought to re-build the club after the damage caused by Kenny Dalglish's second managerial stint.
And Rodgers' faith in Henderson was vindicated last season as the 24-year-old emerged as a key player in the Reds' Premier League title charge. His absence was keenly felt when Liverpool capitulated against Chelsea and Crystal Palace late on in the season.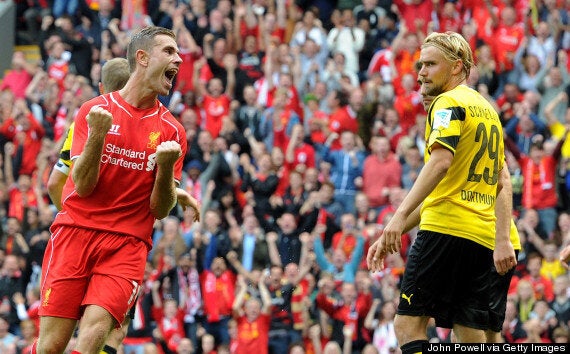 Henderson joined Liverpool from Sunderland in 2011
"Jordan is someone who represents the best values of what we are all about, as a team and as a club," Rodgers told the Liverpool website.
"Both he and Steven are examples to others in how they conduct themselves on and off the pitch. It's how they live their lives, it's how they train and it's how they approach their work.
"Jordan is completely dedicated to the game and his leadership qualities come from the example he sets. It's another great story for Jordan in his journey as a Liverpool player and it shows the great progress he has made.
"For club and country he holds himself really well, he's got great stature and I believe he will be an important player here for years to come."
Henderson has made 136 appearances for the club and scored 13 goals.