Mazi isn't like any other Greek restaurant you've encountered before. It has the white and blue of the Cyclades, sure, but there is a clean and modern look to it that marks a departure from the stereotype of tourist Greek restaurants: no dangling ropes of onions or garlic, or wine housed in wicker carafes.
The proprietor is the young and hip Christina Mouratoglou who was dismayed at the idea that British people had of Greek food: stodgy, oily and unappetising.
You can't help but silently blame My Big Fat Greek Wedding which featured plenty of moussaka jokes and the immortal line uttered by Aunt Voula: "What do you mean he don't eat no meat? [the entire room stops, in shock] Oh, that's okay. I make lamb."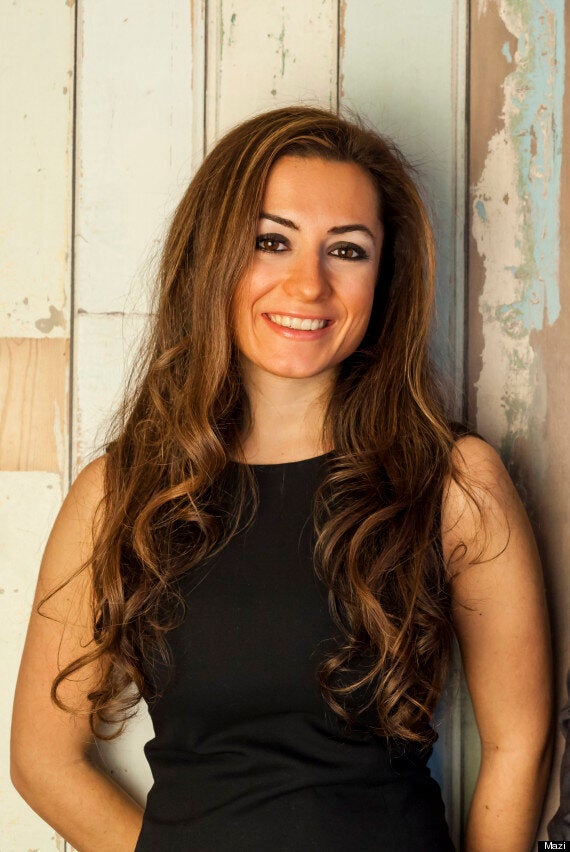 Joining Mazi's Greek following is The Life Goddess and Opso in London, but Christina has put together a pretty special, unique experience.
She first came to London to study communications and then worked in PR for two years, but soon found herself hankering after something more creative.
"It sounds like a cliché but I was always a major foodie – I loved food and loved dining. I was fascinated by the restaurant industry, and I come from a family where food is sacred."
She isn't exaggerating. Before her father recently passed away, he would send bags of a special type of seaweed to be used in the salads that only grew on the rocks near their family's summer holiday home. Called kritama, it has a texture similar to samphire, and was a plant that only a few Greek people knew about.
Before Mazi though, Christina wet her feet in the deli business. "I had a friend at the time who was opening a deli and she knew I wanted to get into this industry and she suggested if I would like to join her. I was front o house and she was the chef. It was then that I realised there was a huge gap in the market for modern Greek and saw how badly Greek was represented here."
To start the business, Christina asked her parents for the investment - no mean feat considering their retail business was starting to be affected by the Greek economy crisis.
"They put a lot of hope in me. It was hard, and a lot of pressure but this pushed me to make it work. When you take such huge risks and it's not with your money, you have to work hard and repay them, which I have done."
She then met her partner Adrien Carre, who shared the same vision as her and so Mazi was born.
Christina has a lot to be proud of - Mazi is one of those rarities where you fall in love with the restaurant on site, and you just know in the pit of your belly that you will love the food.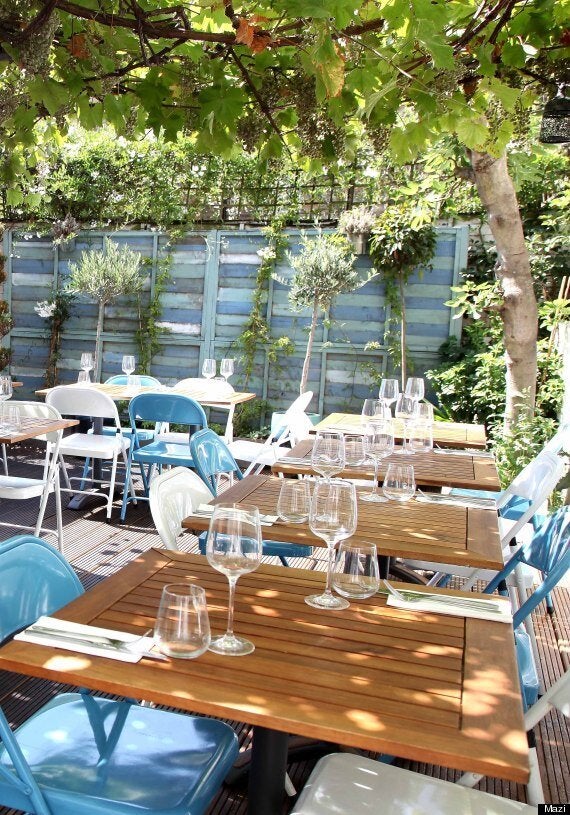 The menu undergoes rigorous tasting before it becomes final, and the breadth of the country is covered as Christina is from the north and head chef George Venieris (nominated twice best Greek chef by Conde Nast Traveller) is from the south.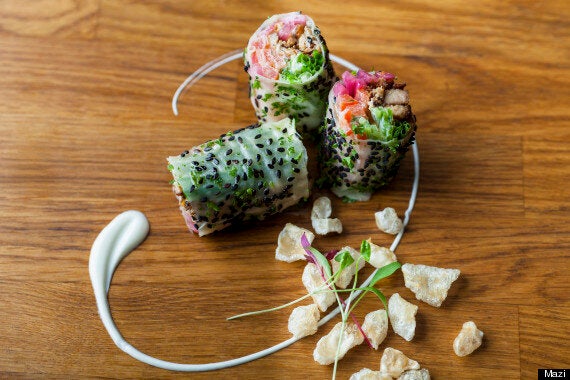 They have meetings, they talk and base the menu around seasonal Greek traditions.
"We're now working on December menu; everyone has traditional Christmas memories. For instance for me, we have a cabbage stuffed with mincemeat with a creamy egg and lemon sauce, and for them it's wild boar."
The wine list is also impressive. Featuring only Greek wine - which people initially grumbled at - the list took 18 months together and features some exclusive imports.
When we sit down to try the menu, we're looking to see how well executed that balance is between modern and traditional, playful yet serious, and fun yet thoughtful. Christina is keen to reiterate that Greek food is about fresh ingredients, and we start with glass jars of grilled aubergine which, she tells us is her uncle's recipe.
The aubergine is smoked to the point that it is almost burnt, and is decorated with a dainty garnish. While it is tasty, the dish that has us fighting over it like we were stuck in the desert and hadn't seen food for days is the deconstructed tiropita - feta and broken filo pastry with leeks and chillies.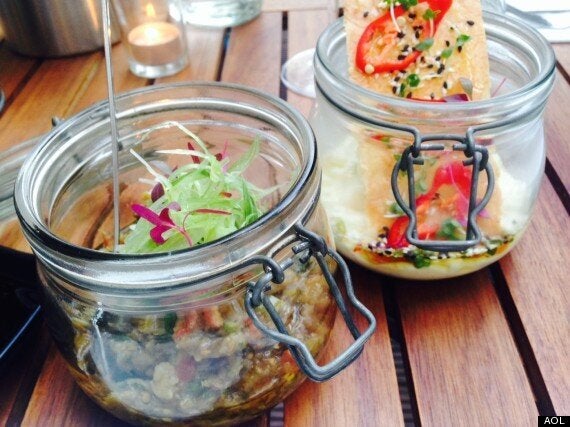 Tiropita and grilled aubergine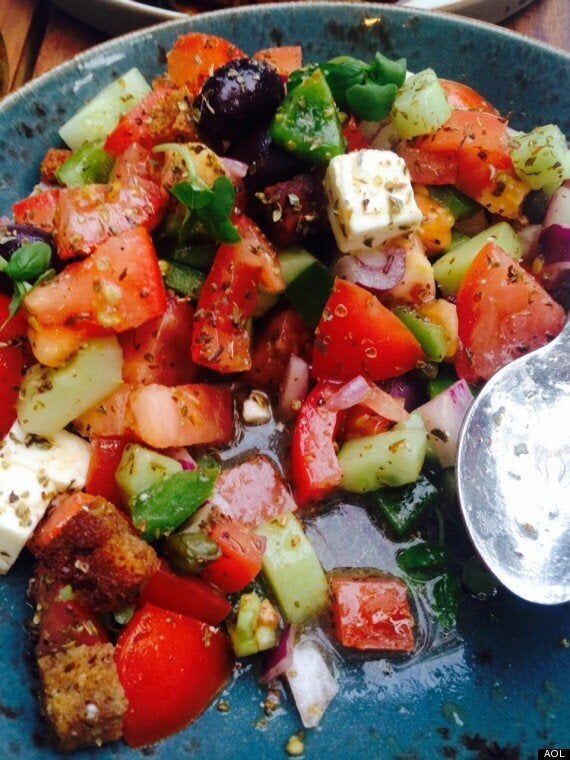 Showstoppers however include black truffle chicken hunkar begendi, shown below in a glossy sauce with mushrooms. Begendi means aubergine puree, which the chicken is placed on.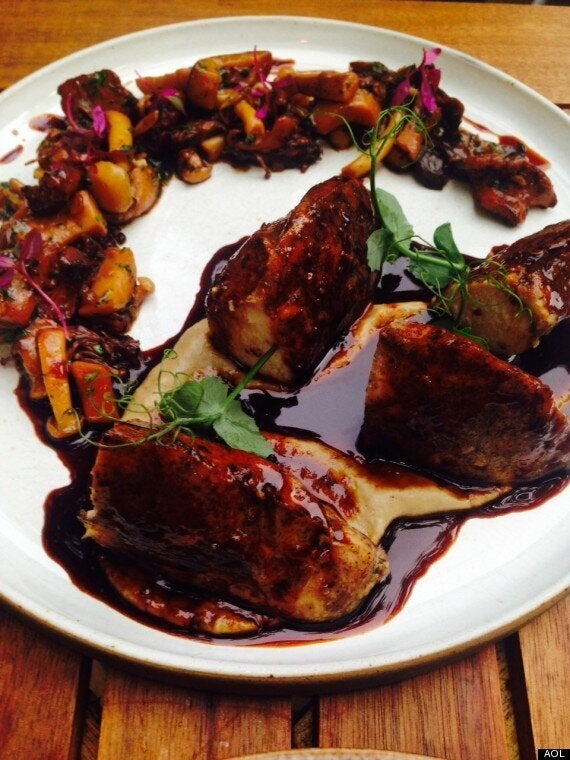 And also the monkfish, king scallops and artichokes a la Polita - a fat slab of monkfish sat underneath a puff of foam, ringed by three perfectly cooked scallops.
By the time the Lokoumades arrived with lavender honey and chocolate sorbet, I felt like I couldn't do it justice - these round, fried balls nestled within paper, served in a wooden box.
I'm not the only one who raves about the food - the Niarchos family who aren't short of a billion or two are also firm fans.
Eugenie Niarchos has pronounced the grilled aubergine as the "best she's ever tasted" and she's eaten in some of the best places in the world. She's also eaten about four or five times at Mazi before she decided to throw a party there.
Long live the Greek renaissance, we say.
Mazi, 12-14 Hillgate Street, London W8 7SR; 020 7229 3794.