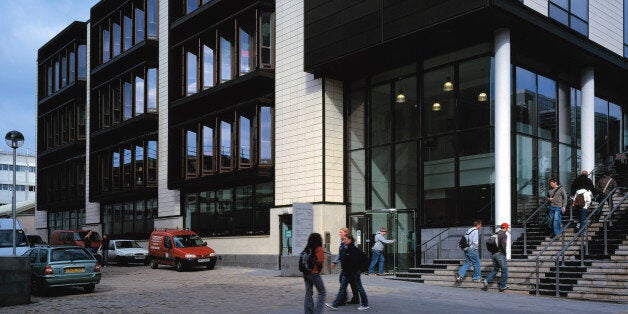 Plymouth University is reportedly set to spend £150,000 on seven custom-made chairs, the latest in a series of scandals at the university.
The plush ceremonial chairs, commissioned by the university for its graduation ceremonies, are set to be designed by celebrated furniture designer John Makepeace, awarded an OBE in 1988 for services to furniture design.
A senior staff member told the Plymouth Herald the £150,000 chairs were "a very bespoke, specialist design based on a number of meetings" and is likely to be made of "leather, wood, and aluminium".
In a statement released yesterday, the acting vice chancellor of the university, David Coslett, said: "The planned commissioning of new graduation furniture is the next stage in the development of our graduation ceremonies.
"It follows a series of events in the university's recent history since it gained university title just over 21 years ago, including the commissioning of the ceremonial university robes; the commissioning of the university mace; the granting of the university coat of arms and the inauguration of the university's first chancellor in 2013."
The incumbent vice chancellor Wendy Purcell is currently suspended for undisclosed reasons.
The organisation and pressure group Unileaks has meanwhile warned that continuing scandal and bad public relations will "damage the learning experience" for students at the university.
Cuts at the university are threatening to lead to the possibility of modules being dropped from courses, prompting Unileaks to add: "This reduces choice for students and perhaps even changes the nature of the degree programme the student signed up to undertake."
Though some will be comforted by Cosslett's assurance that he hoped to pay for the chairs through "private donations and charitable foundations", students remain unconvinced.
One current student, who did not wish to be named, told HuffPost UK it "appears to be a large sum of money spent on something unnecessary", and hoped the institution would "put improving the learning side of the university as a priority".
Elsewhere, there are still many questions left unanswered by Plymouth including allegations from Barbara Bond, pro-Chancellor, that she was "forced out" of office after having serious concerns about "questionable governance practice" at the university.
The current stream of departures and dismissals at the university has also seen the chairman of Governors, former judge William Taylor, resign following allegations of sexual harassment.
As for the students of the university itself, the chief concern for many is that continuing their studies will become difficult in such an unhelpful environment of investigations, suspensions, financial mishaps, and public scandal.