Amanda Holden made her 'This Morning' debut on Monday, co-presenting with Phillip Schofield for the first time while regular host Holly Willoughby is on maternity leave.
The 'Britain's Got Talent' judge admitted at the beginning of the show that she was feeling nervous, revealing: "I've got massive butterflies. I felt really wretchedly nervous yesterday and now I feel a little bit better."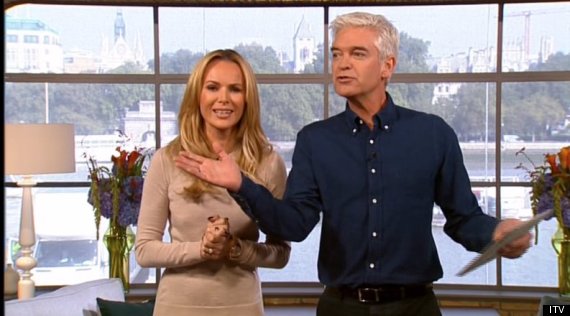 Amanda Holden and Phillip Schofield
Her first day on the daytime show was met with a generally positive reaction from viewers, with hoards of fans of the star praising Amanda for her presenting skills, as well as her look, on Twitter:
You are doing brilliantly @Amanda_Holden loving the show :-)

— Dawn Hall (@dawn060861) September 22, 2014
@Amanda_Holden doing great on this morning .well done you.

— Bonni (@qa_qqqqq) September 22, 2014
Loving @Amanda_Holden on @itvthismorning it's as if she's been doing it for years #thismorning

— Gareth_Trueman (@Gareth_Trueman) September 22, 2014
@Amanda_Holden so natural, warm and perfect replacement for Holly. Really enjoying @thismorningitv

— Jill Jefcoate (@jillyjef_4) September 22, 2014
@Amanda_Holden is the perfect co-host with @Schofe while holly is on maternity leave. U were fab @itvthismorning

— geordiegirl83 (@geordiegirl83) September 22, 2014
Congrats @Amanda_Holden U did an amazing job on @itvthismorning ! UR the best presenter!

— Andy Christofi (@andyc1100) September 22, 2014
Finished work and just caught last 30mims of @itvthismorning and have to say @Amanda_Holden you did a cracking job alongside @Schofe 😉

— Paul Naples (@naps154) September 22, 2014
Thought @Amanda_Holden was brilliant on @itvthismorning with her first show. Looking forward to tomorrow's show

— Rachael Friend (@rachael_friend) September 22, 2014
Well done to @Amanda_Holden on her first day @itvthismorning she looked lovely and came across well.

— Sinead Kelly Johnson (@SINEADKELLYLDN) September 22, 2014
However, proving that you can't please everybody, others among the 'This Morning' audience were less sold by Amanda's presenting skills, and didn't consider her a worthy replacement for Holly.
Oh well I tried to watch @itvthismorning with Amanda Holden sitting in for Holly, but sorry it's so dire after just 10 minutes!

— maggie lewis (@mjl1970) September 22, 2014
What an absolutely terrible decision to put Amanda Holden in for Holly. My mornings are RUINED #ThisMorning

— Ashleigh-Kate Graham (@ickle_ashleigh) September 22, 2014
Amanda Holden, she's no Holly Willoughby! #thismorning #mumlife #maternityleave

— Emma K (@Emma_Tweetz) September 22, 2014
This Morning replacing Holly Willoughby with Amanda Holden is like losing your best shoes and hobbling about in soggy wellies instead.

— Kim (@xThe59Sound) September 22, 2014
Amanda Holden doesn't belong on This Morning 😴 #FOff

— paige jones (@paigeyjoones) September 22, 2014
Meanwhile, other people noted that although Amanda was looking very youthful on the 'This Morning' sofa, it may have been because she'd had a little *ahem* help, which a few avid viewers suggested may have stopped her from looking sympathetic to the guests she was interviewing:
I literally only knew that was Amanda Holden on #thismorning because of her voice. WTF happened to her face?!

— Emma (@Missyruffles) September 22, 2014
c'mon #amandaholden try and pull a facial expression ...anything ! #thismorning #botoxisbad

— Sazzle (@Sazzle26L) September 22, 2014
@itvthismorning have chosen the wrong presenter with @Amanda_Holden . With all that Botox she can't move her face. Trying to look sad 😱

— conniegrime (@ConnieGrime) September 22, 2014
Amanda later seemed relieved to have reached the end of her first day of presenting live, joking, "Is it too early for a gin?", which her supporters seemed very in favour of:
Now I know Amanda Holden's alright - "is it too early for Gin" - that's my girl! #thismorning

— Estella Joyce (@LelJoyce) September 22, 2014
@Amanda_Holden it's never to early for Gin. You did good........... Go Celebrate

— CYNTHIA KERR (@CynthiaKerr) September 22, 2014
@Amanda_Holden congratulations on your first day. Ps it's never too early for gin !

— deborah randall (@deborahanne67) September 22, 2014
It was announced earlier this year that Amanda would be covering the first half of Holly's maternity leave on 'This Morning', with Christine Bleakley taking over in the upcoming months, despite Christine's stint co-presenting the show earlier this year being panned by critics and viewers.
Similarly, TV chef Gino D'Acampo has taken over from Holly as a temporary team captain on 'Celebrity Juice'.
LIKE US ON FACEBOOK | FOLLOW US ON TWITTER