A popular gay club night has sparked both anger and confusion after mocking up images of Islamic State beheadings of western captives using buff male models, for an advertising campaign.
Drek, one of the biggest gay clubbing promoters in the Israeli city of Tel Aviv, has refused to apologise for the pictures, deeming them "satire" but said it rejected violence.
The two male models are seen swathed in black and bright orange cloth respectively, the colours worn by the murdering Islamic State jihadist and three Western victims, two American journalists and a British aid worker. They pose against a desert background, styled to look like the videos released by the terror group.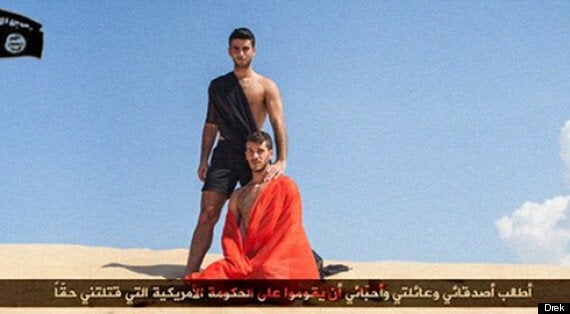 The image which has now been deleted
Instead of the orange jumpsuit, the model poses with his chest hair visibile and a pout, in the poster which promotes the 'Drekistan' club night at the city's Haoman 17 Club, according to Hebrew newsite Ynet. The image has since been deleted from Facebook.
Another picture, which still appears on the page, showed a model in nothing but a pair of tight briefs, holding a wispy black flag aloft, referencing the terror group's flag.
On Drek's Facebook page, the promoters said they had "decided to give in to Sharia law and cheer the stubborn Daesh." 'Daesh' is the Arbaic acronym for the group adopted in some quarters, including the French government, because it is similar for the Arabic word "to trample".
There is also a disturbing play-on-words for the Hebrew word for "stubborn", Ynet said, because the literal translation is "hard-necked", thus alluding to the beheadings of the journalists and aid worker.
Amiri Kalman, one of the Drek's founders, told Ynet: "We are trying to react to current events. We have been doing it for a number of years. But we reject violence in any form and that includes the (execution) videos intended to scare the world.
"Therefore we also refuse to participate with this fear and refuse to become hysterical. This is satire, and our way of showing our contempt of them and their videos."
He said the club night itself did not include any Islamic State themed decorations or activities.
The group had previously posed other provocative photos for its Facebook page, including a male model in traditional Muslim attire nuzzling another male model with the Orthodox Jewish curled sideburns, known as peyos.