Labour is being "straight" with the public by admitting that it will impose more real-terms cuts on child benefit if it wins the general election, Ed Balls will insist, as the shadow chancellor seeks to restore Labour's reputation for sound fiscal management in the wake of the credit crunch.
In his speech to the Labour conference in Manchester later, the shadow chancellor will say a 1% cap on rises in help for parents will save the taxpayer £400 million over five years.
He will seek to temper the squeeze by declaring that ministers' pay would be cut by 5% and then frozen until the party is able to "balance the books".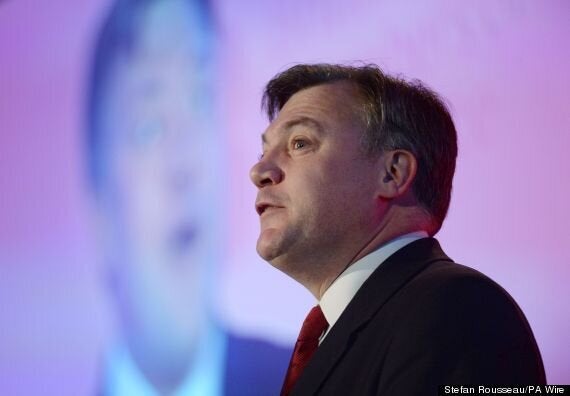 Labour won't reverse the cuts on child benefit, Balls will say
The party has committed to run a surplus on the current budget and get national debt back on a downward path by 2020 at the latest.
Balls said in numerous broadcast interviews before his speech that life for a potential Labour government would be "very difficult" because of a deficit of £75 billion.
"People need to know that the next Labour government will make difficult decisions to get the deficit down and do so in a fair way," he said. "I would not be being straight with your viewers if I did not say that with a deficit of £75 billion a Labour chancellor will have to make tough choices."
Under austerity measures introduced by the Conservative-Liberal Democrat coalition, child benefit was frozen from 2010 to this year. It went up by 1% in April and is due to rise by the same amount in 2015/16.
But Balls will tell Labour activists he would extend below-inflation hikes for at least one more year. "I want to see child benefit rising again in line with inflation in the next parliament," he will say. "But we will not spend money we cannot afford."
Ball said he knew the move would be likely to alienate core Labour voters. "But unlike the Tories we will always ask those who have the most to make the biggest contribution," he said.
That would include reintroducing the 50p top rate of income tax for those earning more than £150,000 and another bid to show pay restraint at Westminster.
Ministers' salaries were cut by 5% when the coalition came to power and left at that level for the whole parliament, in the aftermath of the expenses scandal.
Labour is promising to repeat the exercise, slashing a further 5% from the take-home pay of its top team - reducing a cabinet minister's salary by almost £7,000 to around £127,800.
Aides to the shadow chancellor have also reiterated that the party is opposed to the 10% pay rise for MPs, due to be implemented by the Independent Parliamentary Standards Authority (Ipsa) next May.
They said it was "unimaginable" the increase - which would wipe out the mooted government salary cut - would be taken by ministers.
Opposition leader Ed Miliband announced over the weekend that a Labour government would raise the minimum wage to £8 an hour by 2020.
"The next Labour government will get the deficit down," Balls will say. "And Ed Miliband and all my shadow cabinet colleagues are clear it will mean cuts and tough decisions and we will take the lead.
"If we win the election, on day one of the next Labour government the pay of every government minister will immediately be cut by 5%.
"Ministerial pay will then be frozen each year until we have achieved our promise to balance the nation's books, because we are all clear that everybody in the next Labour government will be fully focused on that vital task of getting the deficit down."
Balls will tell the conference: "While our economy is growing again most working people are still not seeing any benefit from the recovery.
"This is our task: not to flinch from the tough decisions we must make and to show the country that there is a better way forward.
"Three years of lost growth at the start of this parliament means we will have to deal with a deficit of £75 billion - not the balanced budget George Osborne promised by 2015. And that will make the task of governing hugely difficult.
"People know we are the party of jobs, living standards and fairness for working people. But they also need to know that we will balance the books and make the sums add up and that we won't duck the difficult decisions we will face if they return us to government.
"Working people have had to balance their own books. And they are clear that the Government needs to balance its books too."
Treasury Exchequer Secretary Priti Patel said: "This speech isn't a serious plan for the economy - Labour would put the deficit up, not down.
"These savings on ministerial pay only cut a minuscule fraction of the deficit - less than 1% of 1%. And it comes just days after the Institute for Fiscal Studies said Labour's economic policy means £28 billion extra borrowing."
A former Labour trade minister has warned Ed Miliband's party is making a persuasive case that they are not pro-business.
Digby Jones, who sits in the Lords as Crossbench peer Lord Jones of Birmingham, warned the actions of the shadow cabinet had shown they "don't get it" when it comes to business.
The ex-CBI director general insisted Labour needed to acknowledge public sector jobs relied on the wealth created by businesses, and offer to stimulate investment by lower taxation in return for better behaviour.
Asked if Labour is making a case it is a party that will support business, Lord Jones told BBC Radio 4's Today programme: "I think Labour has made a persuasive case that they're not. I've always thought, never listen to what politicians say, watch what they do.
"And whatever the current shadow cabinet says, their actions, be it let's nationalise land banks, let's have a social market in energy, let's increase business taxes, whatever it may be, they're actually showing by their actions that they don't get it."
He added: "I've not heard one Labour politician in the last three years ever say without the wealth that business creates you have no public sector, you have no taxation, you don't have one job in the country. That's how important business is.
"When you make money in business you can only do one of three things with it, you can either reward the shareholders who pay tax on it, keep it in the business and pay tax on it or you employ people and they pay tax on it, and that tax goes to pay for good decent people in the public sector."
Told business people would not vote Labour into power, Lord Jones replied: "You didn't ask me whether I thought it was politically popular, because I do."
He added that the previous New Labour governments were successful as they were business-friendly, noting: "We've got the most successful economy in the developed world at the moment and it's going really, really well and it will feed through in time.
"Please don't spoil it by a flight to populism and that's really what worries me."
Lord Jones said there were still about three months for Miliband and others to develop policy before next year's general election.
He went on: "One thing (Tony Blair) got very early on was you have to encourage and inspire - you have to have people aspire to more and in that respect you musn't destroy the dream.
"Business is about risk, reward and dream - work hard, earn more, skill up, earn more and then keep more of what you earn.
"And on the route through there you create employment, you pay tax, you pay for a public sector."
Related