If gender equality is ever going to be achieved, it's not just women that need to fly the flag for feminism, but men too.
That was the message delivered by Emma Watson at the UN in New York this weekend, and quite frankly, we couldn't agree more.
The actress's speech marked the launch of the HeForShe campaign, which aims to encourage men to join the fight for equality.
For those still confused about what feminism is (we're looking at you, Women Against Feminism), Emma said: "For the record, feminism by definition is: 'The belief that men and women should have equal rights and opportunities. It is the theory of the political, economic and social equality of the sexes.'"
Emma was appointed as the UN Women Goodwill Ambassador six months ago, but in her speech, she said she first became aware of sexism at the age of eight, when she was called "bossy" for wanting to direct school plays - her male classmates were not described in the same way.
"At 14 I started being sexualized by certain elements of the press. At 15 my girlfriends started dropping out of their sports teams because they didn't want to appear muscly," she added.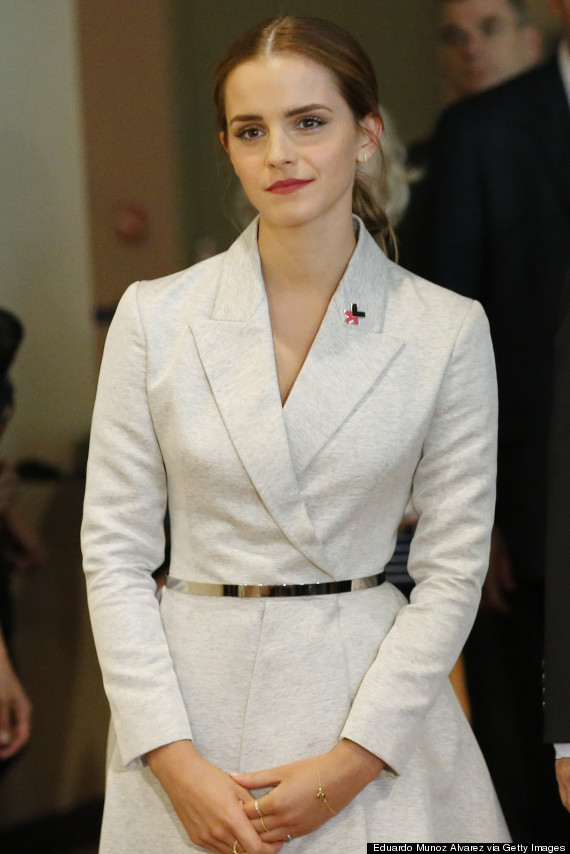 As well as pointing out the discrimination women often face, Emma refreshingly highlighted that men can suffer because of gender inequality too.
"I've seen young men suffering from mental illness unable to ask for help for fear it would make them look less 'macho' - in fact, in the UK suicide is the biggest killer of men between 20-49, eclipsing road accidents, cancer and coronary heart disease.
"I've seen men made fragile and insecure by a distorted sense of what constitutes male success. Men don't have the benefits of equality either," she said.
Emma said she'd like men to consider her speech as a "formal invitation" to join the fight against inequality.
"I want men to take up this mantle. So their daughters, sisters and mothers can be free from prejudice but also so that their sons have permission to be vulnerable and human too - reclaim those parts of themselves they abandoned and in doing so be a more true and complete version of themselves," she said.
The speech has received an overwhelmingly positive response, with praise for Emma flooding in on Twitter.
Emma Watson's UN speech is so inspiring

— Sarah (@SarahSlatford) September 22, 2014
"And if you still hate the word—it is not the word that is important but the idea and the ambition behind it." #feminism #EmmaWatson

— Spinocle (@spinocle) September 22, 2014
Do yourselves a favour and watch Emma Watson's speech on gender equality. http://t.co/uZPv7Dee60

— Katelyn (@asifkatelyn) September 22, 2014
"If we stop defining each other by what we are not and start defining ourselves by who we are..." @EmWatson proud to say I'm a #malefeminist

— Nicholas Petricca (@petricholas) September 22, 2014
Using her fame in the right way. Go @EmWatson's! #respect

— andy telasai (@andytelasai) September 22, 2014
Emma Watson's speech on feminism knocks it out of the park. http://t.co/qIdAg25ON6

— Lindsey Adler (@Lahlahlindsey) September 22, 2014
Everyone should stop, drop, and watch Emma Watson's incredible, honest, and brave speech at the UN on feminism https://t.co/HHqNpZ47qU

— Erik N. Martin (@EriKlaes) September 22, 2014
Emma's involvement in the HeForShe campaign proves how celebrity backing can help to ensure key issues are on the public's radar.
SEE ALSO:

How Women Are Combating Oppression In Egypt And Afghanistan By Speaking Out Through Social Media

'Girl Talk' Magazine Proves It's Never Too Young To Go Feminist