The militant Islamic State terror group is planning attacks in Europe and the USA and has been plotting to target the UK, David Cameron has claimed, warning; "These people want to kill us - They've got us in their sights." The Prime Minister was speaking after a wave of US air strikes in Syria and Iraq, which the Pentagon said were in part prompted by fears that jihadists were preparing to mount terror attacks on Western targets.
Speaking during a visit to New York, Mr Cameron said there was a "very clear" threat to the UK and other Western states, and linked IS - also known as Isis or Isil - with the murders of four people by a gunman at the Jewish Museum in Brussels in May.
The Prime Minister told NBC in television interview: "There's no doubt in my mind it has already undertaken and is planning further plots in Europe and elsewhere, specifically in Belgium, in Brussels. It was an Isis plot that went into a Jewish museum and killed entirely innocent people.
"And there are other plots they have been attempting, including in my own country, in order to kill and maim innocent people. And the same applies to the United States of America. So this is a fight you cannot opt out of. These people want to kill us. They've got us in their sights and we have to put together this coalition, working with radical support... to make sure that we ultimately destroy this evil organisation."
Asked whether he was aware of an IS threat to the UK or USA, Mr Cameron said: "I think the threat is very clear, that you've got here not a terrorist organisation that is, as it were, leeching off another state, as we had in Afghanistan with al Qaida and the Taliban state. Here you've got Isis which is a terrorist organisation controlling a state. It has oil, it has money, it has territory, it has weapons."
The Prime Minister is using the two day United Nations General Assembly to help rally support for international action and to discuss the UK's contribution to the coalition. He is due to hold talks with Iranian president Hassan Rouhani - the first meeting between a British prime minister and Iranian president since the revolution of 1979 - in an attempt to enlist Tehran's support.
Mr Cameron gave his backing to last night's air strikes, which were ordered by President Barack Obama after intelligence reports indicated that an attack by a shadowy al Qaida-linked group known as the Khorasan Group was "imminent".
Lieutenant General William Mayville, the Pentagon's director of operations, said Tomahawk cruise missiles fired from US warships in the region were used to hit the group's compounds, workshops and training grounds around the city of Aleppo.
"Intelligence reports indicated that the Khorasan Group was in the final stages of plans to execute attacks against Western targets and potentially the US homeland," he said. The missile strikes were followed by attacks by US warplanes and drones - backed by Arab allies - to hit Islamic State.
Following the raids - the first carried out by the US against IS on Syrian territory - Mr Obama has vowed "to do what's necessary" to deal with the group. He said the backing of five Arab states - Jordan, Qatar, Saudi Arabia, Bahrain and the United Arab Emirates - underlined the support he was building for international action to defeat IS.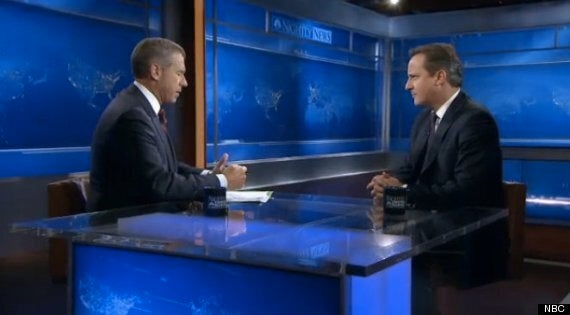 Cameron told NBC there was a "very clear" threat to the UK
"The strength of this coalition makes it clear to the world that this is not America's fight alone," he said in a statement on the White House lawn. The overall effort will take time, there will be challenges ahead, but we are going to do what's necessary to take the fight to this terrorist group for the security of the country and the region and for the entire world."
While the US - like Britain - has ruled out any co-operation with the regime of Syrian president Bashar Assad, Damascus said that Washington informed its UN envoy before the attacks began. Among the areas reportedly hit was the IS stronghold of Raqqa where it is thought a second British aid worker, Alan Henning, is being held.
Speaking to ITV News, Mr Henning's brother-in-law Colin Livesey voiced concern about the possible impact of the air strikes on the former taxi driver's safety. "It scares me. It does scare me," said Mr Livesey. "Because if they're going to do air strikes on them, they'll just run away.
"They'll take him with them and no-one will know where he is again. He thought he was doing the right thing by going up there and helping other people in another country, to give them aid, because that's the sort of guy he is. He just went there pure and simple to help kids out. That's all he did it for. He doesn't deserve what's happening to him now."
The Prime Minister is expected to use a speech to the UN tomorrow to set out further details of Britain's contribution to tackling Islamic State. There is growing speculation that he will announce that UK forces will join the air strikes, although they are thought likely to be restricted to Iraq, where they would be operating at the invitation of the government in Baghdad.
The Ministry of Defence said no decisions had yet been taken on any UK military involvement against the militants who have seized large swathes of territory in Iraq and Syria, carrying out a series of atrocities, including the beheading of British aid worker David Haines and two American journalists.
Since August, the US has carried out around 190 air strikes against IS in Iraq as part of Mr Obama's campaign to "degrade and destroy" the militants. Britain has so far been helping supply arms to the Kurdish peshmergas fighting IS in northern Iraq, as well as offering support to the new Iraqi government led by Haider Abadi.
It was also a driving force behind a UN Security Council presidential statement on Friday calling on the international community to help Iraq defeat the extremists. Mr Cameron made clear that he would want to consult the House of Commons, if possible, before engaging British forces, raising the prospect of a possible recall of Parliament after his return from the US on Thursday.
The Prime Minister will be anxious to avoid a repeat of last year's Commons defeat when he lost a vote on air strikes against Syrian government forces over the Assad regime's use of chemical weapons against the rebels. Labour leader Ed Miliband - who last year led his MPs in voting against air strikes on Syria - has urged Mr Cameron to seek a UN Security Council resolution to rally international support against Islamic State.
In his keynote address to Labour's annual party conference in Manchester, Mr Miliband said: "We support the overnight action against Isil. What needs to happen now is that UN needs to play its part - a UN Security Council resolution to win the international support to counter that threat of Isil."