It's almost time for Phil and Sharon's wedding in next week's 'EastEnders' (from Monday, 29 September), however, things don't exactly go to plan for the not-so-happy couple.
Viewers have already seen Phil discover Sharon's plans to fleece him so the wedding disaster won't be a total shock - but that's where Shirley comes in.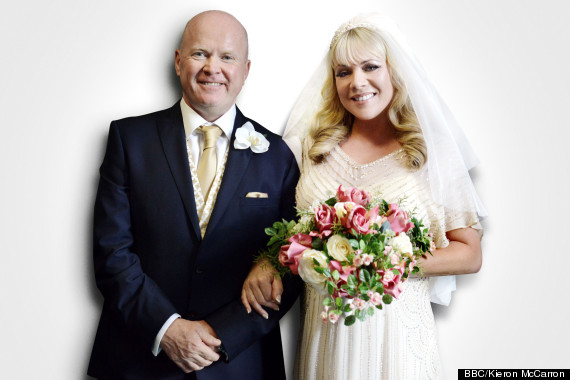 These smiles won't last long
Worried that Phil won't stick to his plan and shame Sharon in front of everyone, Shirl decides to take things into her own hands after she finds Sharon's hidden gun.
Shirley - who is, for reasons we cannot fathom, still madly in love with Phil - takes the firearm to the ceremony where, in typical 'EastEnders' fashion, things go more than a little wrong.
Inside Soap have revealed that the gun will go off and either Phil, Shirley or Sharon will take a bullet.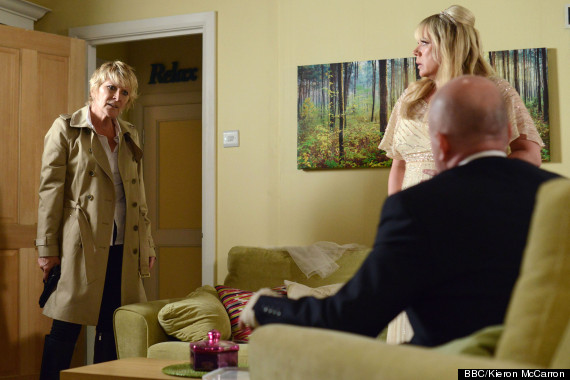 Sharon - gun in hand - confronts the couple
"There will be chaos, tragedy and a lot of tears," Letitia Dean, who plays Sharon, tells the magazine. "That gun was for Sharon's protection - if someone died because of it, she would have huge guilt."
Shirley and the Carter family haven't exactly had it easy since their arrival in Albert Square, and things are set to get even worse later this year, when Dean Wicks sexually assaults Linda Carter.
Watch 'EastEnders' from Monday 29 September to see the action unfold.
LIKE US ON FACEBOOK | FOLLOW US ON TWITTER