The US, alongside five Arab nations, has launched airstrikes against key Islamic State targets in Syria, stepping up the offensive to stop the terror group which has terrorised thousands, slaughtered minorities and beheaded three Western captives.
Airstrikes began around 1.30am UK time and lasted around 90 minutes, carried out by military units from the US, and, significantly, Bahrain, Qatar, Saudi Arabia, Jordan and the United Arab Emirates - significantly Sunni states taking on a Sunni enemy. Britain has not been involved in the strikes.
A British Ministry of Defence spokeswoman said of the action: "Our position in Iraq and Syria is the same. Discussions are ongoing, no decision has been taken to our involvement."
David Cameron has ruled out putting British "boots on the ground" and it has been unclear whether the UK will join the US and France in air strikes against Islamic State forces. If British military action is to come, analysts believe it is likely to be in Iraq rather than Syria. The Prime Minister has said he would want to consult the House of Commons, if possible, before engaging British forces, raising the prospect of a possible recall of Parliament after his return from the US on Thursday.
Foreign Secretary Philip Hammond has said there would be significant military, legal and technical differences in mounting strikes on Syrian territory, because strikes on IS in Iraq would be conducted at the invitation of the government in Baghdad, while Britain has ruled out any co-operation with the Syrian regime of President Bashar Assad.
France, which has already joined the US in carrying out attacks on IS forces in northern Iraq, has ruled out extending its action into Syria.
Shadow business secretary Chuka Umunna said it was "inconceivable" that Cameron could commit UK forces to air strikes without seeking the approval of MPs. "Isis need to be eliminated. What they are doing in the region is evil, is terrible. Obviously the Prime Minister hasn't determined yet that the UK should get involved," he told Sky News.
"If that is something he does, the Labour Party will apply the same criteria to whether or not we choose to support the intervention as we applied to the proposed Syrian action last year - is there a legal basis to intervene, is there a plan for intervention, and, importantly as well, learning the lessons from Iraq, is there a plan for what happens after?"
Some of Monday night's airstrikes were against Islamic State group's self-declared capital in Raqqa in northeastern Syria, where several other Western captured journalist and aid workers were suspected to have been held, at least until relatively recently. Command and control centres, supply facilities, training camps and other key logistical sites are the key targets.
The earliest indications that bombing had begun came from social media, almost 30 minutes before the US confirmed it had begun the offensive. Local citizen journalist Abdulkader Hariri tweeted late Monday night that bombing raids were directly striking the headquarters of the radical jihadist group.
One Raqqa-based activist, speaking on condition of anonymity, said the airstrikes lit the night sky over the city, and reported a power cut that lasted for two hours.
The Syria Step News Agency published a video of what it claimed were the airstrikes in Raqqa, showing an onslaught of
An anti-militant media collective called "Raqqa is being silently slaughtered" said among the targets were Islamic State buildings used as the group's headquarters, and the Brigade 93, a Syrian army base that the militants recently seized. Other airstrikes targeted the town of Tabqa and Tel Abyad in Raqqa province, it said. Their claims could not be independently verified.
Syria's eastern province of Deir Ezzor was also hit by strikes, the Syrian Observatory for Human Rights told Reuters, saying there were 22 strikes on Albu Kamal, a key town on the Iraqi border.
Pictures emerged of what Islamic State militants said was a "US drone" which crashed over the city during the raid, and Hariri also said he spotted drones in the sky above Raqqa. But a US military official said no drones had been used for the airstrikes. It had previously been reported that the US were using predator drones for intelligence gathering over the de-facto capital of the Islamic State.
Story continues below slideshow...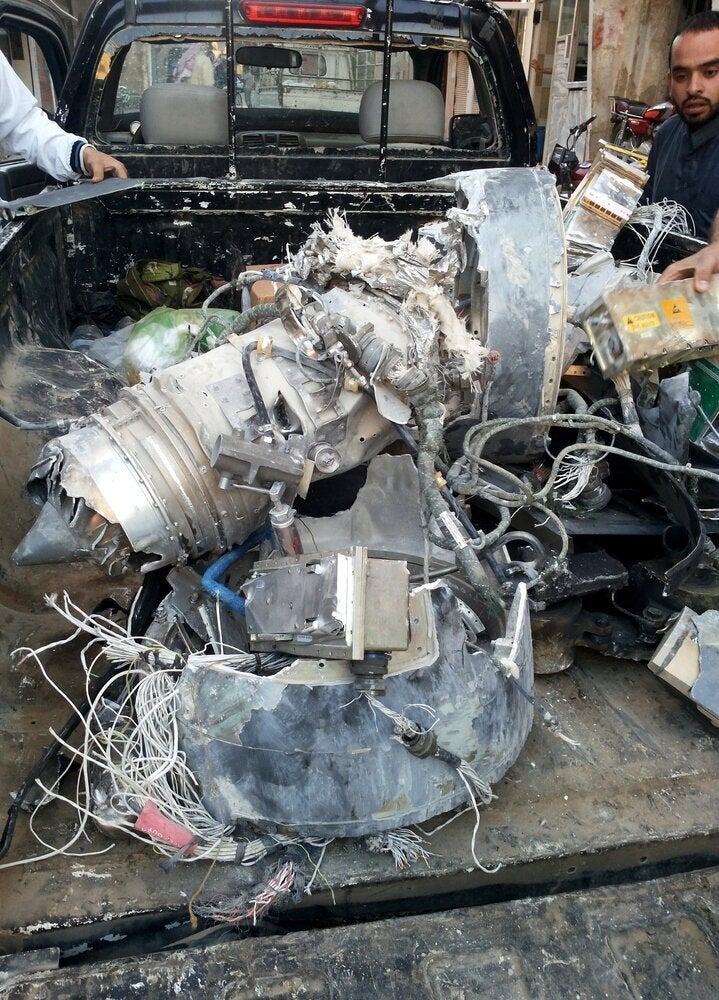 Islamic State Claim US Drone Crashes In Syria
The strikes are the fruits of a September 11th conference hosted by US Secretary of State John Kerry, where key Arab allies promised they would "do their share" to fight the Islamic State militants, the day after President Barack Obama vowed to "go after" the Islamic State militants.
Military leaders have said about two-thirds of the estimated 31,000 Islamic State militants were in Syria, though the US military has been launching targeted airstrikes in Iraq since August, focusing specifically on attacks to protect US interests and personnel, assist Iraqi refugees and secure critical infrastructure, but the US had been more cautious about similar strikes in Syria.
Some officials have expressed concern that going after IS militants in Syria could inadvertently help Syrian President Bashar Assad. The Syrian leader was "informed" the strikes would take place, it was reported, but his permission was not sought.
The Obama administration, which at a NATO meeting in Wales earlier this month also got commitments from European allies as well as Canada and Australia, has insisted that the fight against the Islamic State militants could not be the United States' fight alone.
Because the military operation was ongoing, no details could be provided yet, said Rear Admiral John Kirby, the Pentagon's press secretary, saying only that the military made the decision to strike earlier on Monday.
The strikes were carried out by manned Air Force and Navy aircraft, and the Tomahawk missiles were launched from US ships in the northern Persian Gulf and the Red Sea. The aircraft carrier USS George H.W. Bush is in the Gulf.
"We will be prepared to strike ISIL targets in Syria that degrade ISIL's capabilities," Army General Martin Dempsey, chairman of the Joint Chiefs of Staff, told senators last week, using one of the acronyms for the Islamic State group. "This won't look like a shock-and-awe campaign, because that's simply not how ISIL is organised, but it will be a persistent and sustainable campaign.
Defence Secretary Chuck Hagel said that the plan "includes targeted actions against ISIL safe havens in Syria, including its command and control logistics capabilities and infrastructure."
A spokesman said the US military "going forward... will continue to conduct targeted airstrikes against ISIL in Syria and Iraq as local forces go on the offensive against this terrorist group".
Separately, the United States has, alone, taken action against al-Qaeda-linked militants – sometimes referred to as the Khorasan Group who a spokesman said had "established a safe haven in Syria to develop external attacks, construct and test improvised explosive devices and recruit Westerners to conduct operations".
The militant group, meanwhile, has threatened retribution. Its spokesman, Abu Mohammed al-Adnani, said in a 42-minute audio statement released Sunday that the fighters were ready to battle the US-led military coalition and called for attacks at home and abroad.
The strikes have been welcomed in various diplomatic quarters. Henry Hogger, British ambassador to Syria between 2000 and 2003, told the BBC: "I think it's absolutely right that the US administration should be highlighting that a number of Arab countries are involved in what they call this coalition against Isis because I think it needs to be made very clear the vast majority of the Arab world itself is against this organisation."
Former foreign secretary Jack Straw said he was not against the principle of "proportionate and sensible" British involvement in military action against IS although operations in Syria required "some kind of consent" from the Syrian government. The Labour MP told the BBC Radio 4 Today programme: "We're part of the Western alliance, we have key interests - direct and indirect - in the region, so in principle we should be involved provided the circumstances are right."
But Bob Baer, a former CIA analyst who is currently liaising between the US government and Sunni tribes in northern Iraq, also told the BBC: "I think ultimately it's going to be a failure. We can decapitate Isis, we can degrade them, but this is not going away, it's not going to lessen the civil war in Iraq or the civil war in Syria. The way the Sunnis look at it - I'm not talking about Isis - is we're siding with Iran, (Syrian president Bashar al-Assad) and the Alawites.
"They will look at it as if we're entering the civil war. There will be an indeterminable outcome to this, a blowback if you like. I can't tell you where it's going to be - it could be Jordan, it could be Lebanon - but we've not heard the end of this so this is a very risky move bombarding Raqqa."