Ryder Cup veteran Phil Mickelson could not resist a tongue-in-cheek dig at the only element of Europe's preparations which had the slightest whiff of disharmony.
Much of the talk leading up to the players arriving at Gleneagles was about the relationship between Rory McIlroy and Graeme McDowell in light of the world number one's court case against his former management company into which his fellow Northern Irishman has been dragged.
Both players and captain Paul McGinley have allayed any concerns but in trying to accentuate the togetherness of the United States team Mickelson joked about the issue.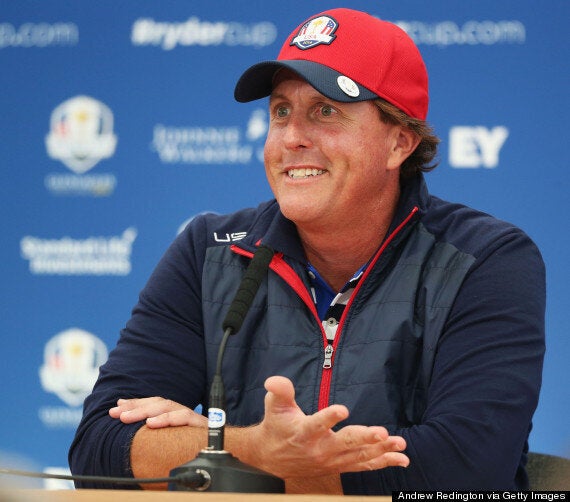 Mickelson cracked a joke at McIlroy's expense on Wednesday
"Not only are we able to play together, we also don't litigate against each other and that's a real plus, I feel, heading into this week," said the 44-year-old, who added with a smile: "I couldn't resist."
It was a good line, even if it was not entirely accurate as McIlroy's legal wrangle is with Horizon, which McDowell is leaving under far friendlier terms at the end of the year, and not his team-mate.
Mickelson has had legal issues of his own this year after being questioned by the FBI in relation to an investigation into alleged insider share trading. He has denied any wrongdoing.
Only a couple of weeks ago McIlroy suggested Mickelson and the absent Tiger Woods were "playing the last few holes of their careers".
McGinley later declined to comment on the remark while USA team-mate Rickie Fowler said: "Phil's always Phil, that's why we love him. We hear a lot of those one-liners in practice rounds in Tuesday games so it's nothing new to me."
Related