One of the Tories' most outspoken Eurosceptic MPs has said pro-EU businesses should be "punished" if they are seen to be "meddling in politics".
In the astonishing tirade at a fringe event at the party's Birmingham conference, John Redwood said that companies would have to pay "a very dear economic and financial price".
Shadow Business Secretary Chuka Umunna called them "vile and disgraceful comments from an experienced parliamentarian who should know better."
"John Redwood's comments reveal a Tory party focused on pushing Britain towards the EU exit door, not batting for UK business and jobs," Umunna said.
And fellow Tory, former foreign minister Alistair Burt, was incredulous at the remarks.
Minister Ken Clarke also attacked Redwood, saying the party's "neurotic" obsession with Europe had cost them elections for two decades.
"This is the first time I can recall John Redwood capturing the tone of the Scottish nationalists," he said.
Redwood's remarks were an obvious echo of those by Jim Sillars, the ex-deputy leader of the Scottish National Party, who said Scottish banks who opposed independence should be hit by punitive economic policies and boycotts.
Speaking at the event, Redwood said: "If they don't understand that now they will find those of us organising the 'get out' campaign will then make life difficult for them by making sure that their customers, their employees and their shareholders who disagree with them, and there will be a lot, will be expressing their views very forcefully and will be de-stablising their corporate governance."
"This is absolutely crucial that these people get this," the former Welsh secretary said.
"That it will be deeply disruptive to their businesses, and maybe even to their own tenure of their jobs, if a chief executive with a handful of shares thinks he can put the voice of a multi-national corporation behind a highly intense political argument in one country in which they operate.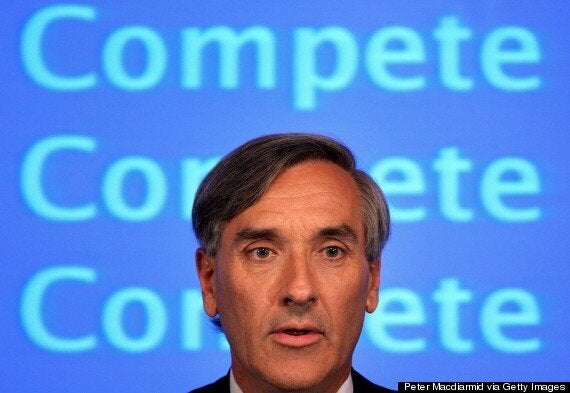 Former Conservative cabinet minister John Redwood
"It would be extremely foolish and we must make sure they have to pay a very dear economic and financial price were they to try that ill-judged thing."
Redwood, former shadow trade and industry secretary, also said that it was "bad advice and judgement" from businesses that led the country to adopt the Exchange Rate Mechanism, and suggested that some business leaders should publicly apologise for having encourage the UK to join the Euro.
"We not only destroyed our country's economy for a long time and did great damage to our national interest, but it actually destroyed our party's chances of ever winning a general election between then and now.
"Be in no doubt, it was the pledge to the Exchange Rate Mechanism and the economic damage that did which took us out of office in 1997 and has kept us out of office ever since."
Business leaders and commentators were quick to dismiss Redwood's remarks, with leading economist and former Bank of England committee member Danny Blanchflower calling them "appalling".
Popular in the Community