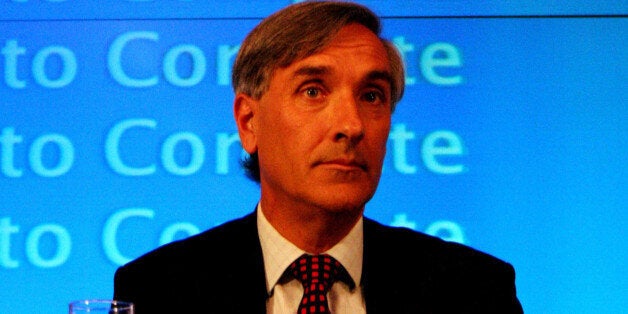 British businesses will "not suffer" whatever the outcome of a referendum of the UK's membership of the European Union, a Treasury minister has told the Conservative Party conference.
On Monday morning, eurosceptic former Tory cabinet minister John Redwood caused controversy when he said any company that publicly spoke out in favour of Britain's membership during any referendum would pay a "very dear economic and financial price".
His comments were likened to those of Scottish nationalist Jim Sillars who, during the closing days of the independence referendum campaign, warned businesses that were pro-Union would face a "day of reckoning".
The trade body for the City of London said if a in/out referendum took place then it would "speak up" in favour of Britain's membership.
Asked about Redwood's comments, economic secretary to the Treasury Andrea Leadsom told The Huffington Post: "My own view is that business will not suffer regardless of the outcome of the referendum, it would take too long to go into, it's more a several bottles of wine discussion. My own view is, for a start David Cameron is a superb negotiator, there will be very serious reforms on the table."
"John Redwood is an incredibly brilliant man and he has a very clear personal agenda about the EU which I have a lot of sympathy for," she said.
Leadsom, who was speaking at a fringe event at the Tory conference in Birmingham, stressed she did not know the full context of what Redwood had said, but added: "It's as much in Europe's interests as is it in Britain's that we continue to have a strong and unbroken business relationship. After several bottles of wine I could probably expand on that."
Redwood, who wants Britain to leave the EU, told a fringe event at the Tory conference that companies should not "meddle in politics". The Daily Telegraph reports he said: "If they don't understand that now they will find those of us organising the 'get out' campaign will then make life difficult for them by making sure that their customers, their employees and their shareholders who disagree with them - and there will be a lot who disagree with them - will be expressing their views very forcefully and will be destablising their corporate governance.
"It would be extremely foolish and we must make sure they have to pay a very dear economic and financial price were they to try that ill-judged thing."
The City Of London also hit back at Redwood. Chris Cummings, the chief executive of TheCityUK, which represents the financial services industry, told The Huffington Post that it was "right that people do speak up" in favour of EU membership. The business community, he said, "has take the lead of setting a very clear agenda of whether the UK should stay in the EU".
He said the public wanted to hear from business leaders more than politicians or "somebody from the X-Factor". And he said it was business that was most able to "sway the vote" of undecideds.
"Whenever the UK takes leadership role in Europe we kind of get our way," he said. Most of the things the UK has pioneered in the development of the EU we have won the day on."
The Conservative conference has once again been consumed by talk of Europe and Ukip. On Saturday the defection of Mark Reckless destroyed any chance the prime minister had of having a smooth ride. And rumours are circulating that Nigel Farage is preparing to pull another defector out of his hat in order to disrupt Cameron's speech on Wednesday.