Amanda Holden has had a fair bit of flack about her frozen appearance from fans of 'This Morning' since she started co-hosting the show, so she really set herself up when she posed next to a life-size plastic sex doll on today's programme.
Amanda - who is covering for Holly Willoughby following the birth of her son on Monday - posted the snap on Twitter of her next to 'Bianca' ahead of Tuesday's show.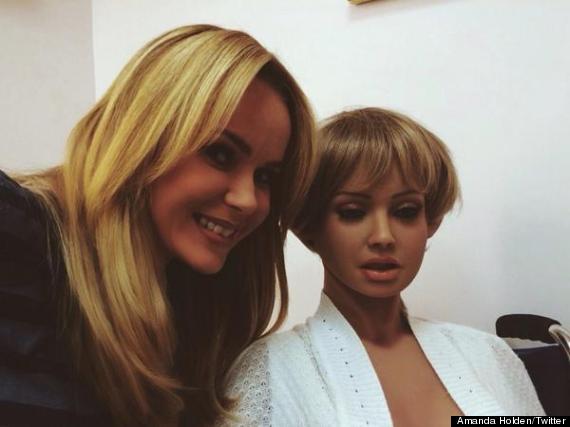 Amanda Holden (left) poses with Bianca
"Coming up on @itvthismorning we talk to life-sized silicon sex doll 'Bianca'!!", she tweeted.
And it wasn't long before Twitter responded, with some viewers having a bit of difficulty telling Amanda and Bianca apart…
@Amanda_Holden@itvthismorning twins!?

— karl kingfisher (@KarlElletson) September 30, 2014
@Amanda_Holden@itvthismorning You could be sisters!! Haha

— Carlos (@Carlos201070) September 30, 2014
@Amanda_Holden@itvthismorning which is which lol

— Jennifer Needham (@JenniNeedham) September 30, 2014
(Amanda's on the left, in case you're still scratching your head).
Last week, 'This Morning' viewers took to Twitter to question the 43-year-old's (ahem) youthful looks following her first day filling in for Holly .
I literally only knew that was Amanda Holden on #thismorning because of her voice. WTF happened to her face?!

— Emma (@Missyruffles) September 22, 2014
c'mon #amandaholden try and pull a facial expression ...anything ! #thismorning#botoxisbad

— Sazzle (@Sazzle26L) September 22, 2014
@itvthismorning have chosen the wrong presenter with @Amanda_Holden . With all that Botox she can't move her face. Trying to look sad 😱

— conniegrime (@ConnieGrime) September 22, 2014
Meanwhile, Amanda was one of the first celebs to congratulate Holly following the birth of her third child.
The TV star gave birth to a boy, who she has called Chester William.
LIKE US ON FACEBOOK | FOLLOW US ON TWITTER