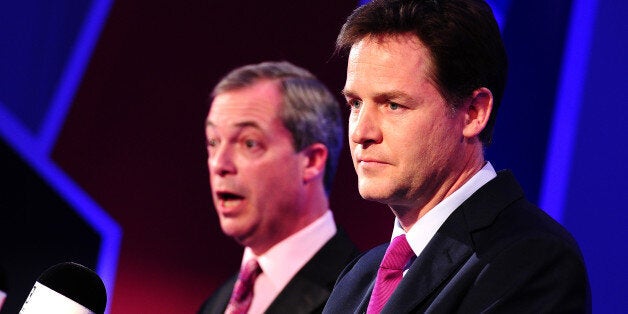 Jacob Rees-Mogg has urged the Tories to forge closer links with Ukip, going as far as having Nigel Farage become deputy prime minister in a new Tory-Ukip coalition.
Speaking to the the Huffington Post UK's political director Mehdi Hasan at a fringe event held at the Tory party conference, he said: "If we can cope with Nick Clegg for the last four years as deputy prime minister, with whom we disagree on almost everything, we can cope with Nigel Farage. I don't see that as being particularly difficult."
The eurosceptic backbencher also said that the Tories should go into an electoral pact with Ukip, standing down in areas where the other party would be likely to win, and vice versa.
Asked if he himself would stand under such an arrangement, he said: "I would". He added: "I'd much prefer a pre-election deal as they're honest."
With the Tories reeling from the defection of two MPs, Douglas Carswell and Mark Reckless, along with former London deputy mayor Richard Barnes, Rees-Mogg admitted that fears about who would be next to defect has "has taken a few column inches" away from covering the Tories' preferred messages during their conference.
Ress-Mogg also called for Cameron to show "absolute clarity" on his plans to claw back more powers from Brussels, warning: "I don't think we have got that yet."
However he insisted the nervousness about Ukip "doesn't really stick in people's minds", adding: "How many voters have heard of Mark Reckless, and how many will remember him in a few days time?"
He went on to describe Barnes, who joined Ukip today, as "desperately obscure" and "one of those people who is not a household name in his own household."
Asked about the recurrent speculation that he may be next to join Ukip, Rees-Mogg said such an idea was "inconceivable".
"I am just completely and utterly a Tory," he said. "There is nothing about me that is not Tory. the mind boggles that anybody could say I'd join another party."
He claimed that he has had no approach from any Ukip representative about the prospect of defecting, explaining: "Ukip have the sense to realise I'm a Tory... even though I have said all these friendly things about Ukip.
"They're not stupid these people, they know I'm as Tory as they come. David Cameron has got to go to Ukip before I go."
Although he floated idea of Farage serving as deputy prime minister in a Tory-Ukip coalition, Rees-Mogg insisted that he much preferred the Tory leader. "I'm more comfortable with Cameron than Nigel Farage,", he said. "He is as much of a Tory as I am."
The eurosceptic backbencher said Cameron was held back by the Lib Dems in government, criticizing the "woolly thinking" of some in the Foreign Office over the United Kingdom's relationship with the European Union and the Home Office's "weak as water" approach to the European Arrest Warrant.
With the Prime Minister's pledge to cut net migration down to tens of thousands set to fail, Rees-Mogg said he should seek an end to the European right of freedom of movement for people, and to leave the EU if this was not achieved.
"If we are serious about immigration the most important change we need to see is the free movement of people has to end," he said.
"We can't be wet about these negotiations. We have to be ambitious. You have to believe in Britain."
"We have got to recognise the strength of our position and be clear if we dont get the europe we want - we can just leave."