Nigel Farage's latest Tory defector, the former party donor Arron Banks, has pledged to give Ukip a massive £1 million donation, in a huge boost for the party coffers ahead of next year's election.
The announcement this afternoon was widely derided by journalists and commentators as an anti-climax, as speculation had been running rife that another Tory MP would be unveiled at the press conference as a defector to Ukip.
I am afraid UKIP have just made complete arses of themselves. Idiots to raise expectations in media of a big defection. Utter idiocy,

— Iain Dale (@IainDale) October 1, 2014
LBC radio presenter Iain Dale said Ukip officials were "idiots to raise expectations in media of a big defection", while the BBC's Giles Dilnot said: "You can't call a conference-buster presser and bring out a cheque".
Today's non-defection to UKIP has a touch of Brown's non-election in October 2007 about it. After that the media turned on Gordon.

— Mike Smithson (@MSmithsonPB) October 1, 2014
Banks, who has previously given tens of thousands of pounds to the Tories, said the donation was ten times bigger than originally planned as he had been enraged by the "rude" response from senior Conservatives, as Commons leader William Hague mocked him as "nobody".
Speaking at a press conference in Bristol, he told reporters that he "woke up this morning intending to donate £100,000 to Ukip".
"I understand Mr Hague called me a… nobody, so in light of that and in view of the fact that I'm a strong advocate of leaving the European Union, I've decided today to donate £1 million to the party and not the £100,000 we originally agreed."
"Mr Hague will know who I am."
Some very annoyed, tired conferencing journos on my timeline. Keep up the golden media strategy UKIP!

— Mario Creatura (@MarioCreatura) October 1, 2014
If you've pulled off 2 shock defections very deftly in PR terms you can't call a conference-buster presser and bring out a cheque.

— Giles Dilnot (@reporterboy) October 1, 2014
He added: "They (the Conservatives) win when they are conviction politicians. They do not win when they are as they are now".
Speaking alongside Banks, the Ukip leader told reporters that his £1 million donation was "not bad for Mr Nobody".
Banks' move comes in the latest in a long line of Ukip announcements designed to disrupt the Tories' final party conference before the general election.
I know Ukip say they don't care about the media and so on, but doing this to them in the middle of conference season seems almost cruel.

— Sean Kemp (@Sean_Kemp) October 1, 2014
Hague initially dismissed reports of his defection, describing Banks as "someone we haven't heard of" whose change of allegiance would have little impact.
"I've never heard of him so we are not going to get too upset about that," he told BBC Radio 5 Live. "The gentleman you are talking about is not a senior figure in this party, not somebody I know personally at all."
Meanwhile Tory culture secretary Sajid Javid reacted with derision, tweeting that he did not come across a "single person" who "had ever heard" of the former party donor.
.@tnewtondunn I didn't come across a single person today that had ever heard of an Arron Banks

— Sajid Javid MP (@sajidjavid) October 1, 2014
Over the weekend Mark Reckless followed fellow MP Douglas Carswell in jumping ship to Ukip and triggering Commons by-elections.
Then, in another shock turn, Boris Johnson's former right hand man at City Hall, Richard Barnes, also declared he was switching allegiance earlier this week.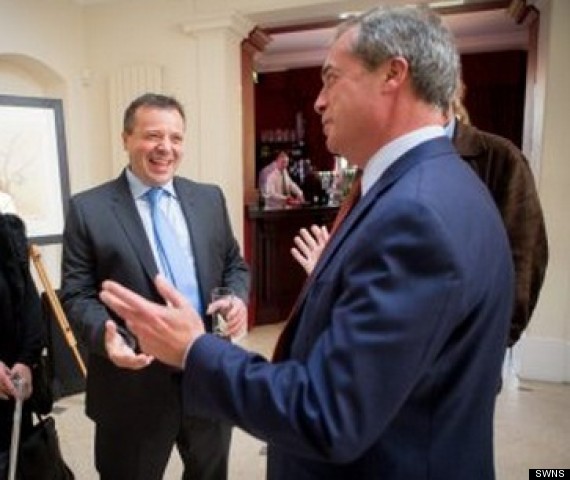 Arron Banks with Nigel Farage today
READ MORE:

Boris' Former Deputy Causes Latest Ukip Embarrasment

'They Are Like Insurgents' Tory Fury At Reckless Ukip Defection

If Carlsberg Did Defective MP Surnames... Twitter Gleefully Responds To Mark Reckless Joining Ukip
Now, Banks' defection has resulted in one of the largest single donations ever given to Ukip. The new Ukip recruit, who runs the insurance company Go Skippy, has also expressed an interest. in standing as a candidate for the party in next year's general election.
His financial support for Ukip was welcomed by the party's deputy chairman Neil Hamilton, who wrote sarcastically on Twitter that it was Hague's "leaving present to Tories".
William Hague generosity knows no bounds. His leaving present to Tories - a million quid 4 #UKIP #ThanksAMillionWilliam

— Neil Hamilton (@NeilUKIP) October 1, 2014
Banks explained his decision to join Ukip in a statement today, saying that "being a member of the EU is like having a first class ticket on the Titanic. Economically, remaining in the EU is unsustainable."
"We are being dragged down to the lowest common denominator of financial growth when we should be looking to trade worldwide and should be basing our future prosperity on a long-term global outlook.
"The Conservative Party try to sell us the myth that EU reform is achievable when frankly all Cameron can offer is tinkering around the edges. He is not even able to bring himself to say that he would support UK exit if his supposed reforms do not work.