The man set to be in charge of digital rights in Europe has refused to apologise for implying female celebrities were to blame after huge quantities of private nude images were stolen and leaked online.
Günther Oettinger said the stars including Jennifer Lawrence and Rihanna were "dumb" for taking the photos to begin with, adding he "just could not believe it".
The images were stolen by hackers who gained access to cloud storage databases and posted them online.
Anonymous hackers also threatened Emma Watson after she gave a speech at the UN imploring men to join the fight for gender equality - thought this threat has not been carried out.
"If someone is dumb enough as a celebrity to take a nude photo of themselves and put it online, they surely can't expect us to protect them," he said in his native German during a grilling with MEPs on Brussels, adding he was being "semi-serious".
"Stupidity is something you can only partly save people from."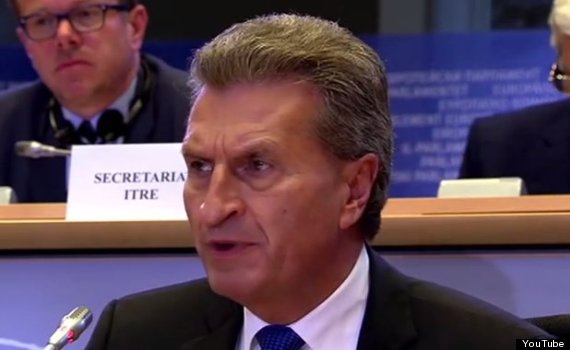 Günther Oettinger said people who uploaded nude photos were 'dumb'
This is the man who is due to become the EU's digital economy and society commissioner - the continent's top internet policy job - next month.
Despite uproar in response to the remarks, his spokesperson told the BBC he would not apologise.
Julia Rede, a German MEP representing the Pirate Party which campaigns for digital rights, said his comment was "unbelievable".
"The person applying to be in charge of shoring up trust in the internet so that Europeans do more business online just victim-blamed people whose personal data was accessed and spread without authorisation. He placed the moral blame for that crime squarely on the victims rather than the perpetrators," she wrote on her blog.
"Private photos of female celebrities were published against their will.
"Far from what Oettinger is suggesting, they didn't 'put the photos online'.
"The most likely sources of the photos were cloud-based phone backups. The women might not even have been aware of the backups' existence, since they are created automatically in the background on many phones."
She suggested the fact Mr Oettinger has "no notable background" in internet policy could explain his failure to distinguish between cloud-based storage and the publicly-accessible internet.
Mr Oettinger, 60, is currently the EU's commissioner for energy, a role he took up after a career in regional politics with Germany's CDU party.
His poor English - the predominant language of the internet - has seen him mocked in his current role and when the appointment for digital rights was announced he claimed his 16-year-old son would "become my honourary adviser, I expect".
SEE ALSO:
When asked by The Guardian if he stood by his comments about the leaking of photos, his office said: "Everyone has the right to privacy. The European commission called for a European cloud strategy in 2012 and continues to campaign for safe cloud computing."
German magazine The Spiegel, which called the hackers who leaked the images "criminals", was distinctly unimpressed.
"Oettinger's comments showed he has no idea of ​​current events that fall within the core area of his future ministry," it wrote.
"It also reflects a basic position: Anyone who uses the internet is to blame, as the EU Commission can not help, sorry.
"EU citizens should not expect too much of this digital Commissioner."