WARNING: THIS REPORT CONTAINS GRAPHIC IMAGES, VIEWER DISCRETION IS RECOMMENDED
Jurors have been shown graphic photographs of a crime scene where a Canadian man allegedly murdered and dismembered his former lover.
Luka Rocca Magnotta is accused of killing Jun Lin in May 2012 and posting four packages of body parts to schools and political parties.
The 32-year-old has admitted the killing but pleaded not guilty to charges which include first-degree murder, committing indignities to a body, broadcasting a video of the killing and posting severed body parts.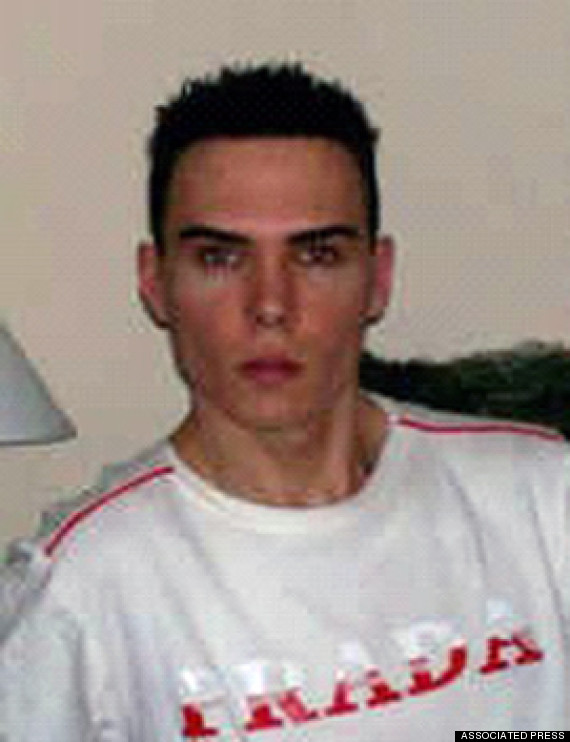 Luka Rocco Magnotta admits killing and dismembering his lover Jun Lin - but denies murder
Magnotta's lawyer Luc Leclair told a court in Quebec his client is schizophrenic and thus not criminally responsible for the crimes.
The jury was shown images of a blood-stained fridge, an angle grinder and a blood-soaked mattress in Magnotta's Montreal apartment.
A rubbish bag containing a dead dog, a crumpled poster of Casablanca and various rambling notes posted on the walls of the apartment were also shown.
Evidence of police testimony on the smell of blood in Magnotta's apartment and the discovery of a severed head in a city park weeks after the killing, was also heard earlier in the week.
Two of the body parts packages sent to schools in Vancouver contained pink tissue paper and included notes on pink notepaper.
One note included the poem: "Roses are red, violets are blue, the police will need dental records to identify you bitch," jurors were told on Tuesday.
It is reported that one of the boxes that were sent to the political parties included a note, which mentioned the name of Canadian Prime Minister Stephen Harper's wife.
On Wednesday the court heard Lin had split from Magnotta shortly before his death because he felt under pressure from his family to marry a woman.
Lin, 33, was born in Wuhan, the capital of Hubei province. He had only been living in Canada since 2011, realising a long-standing dream by coming to Montreal.
Lin's former lover Feng Lin travelled from China to testify, stating his family did not know he was gay. The pair remained friends after they split up and exchanged regular text messages.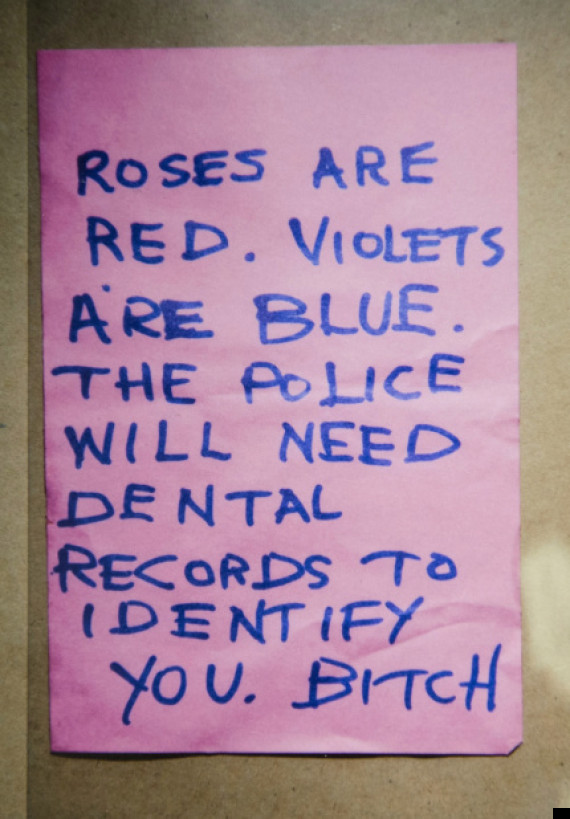 A note allegedly sent to a Vancouver elementary school by Magnotta, along with a severed body part
At the time of his death, Lin was enrolled as a computer engineering student at Concordia University and worked as a part-time convenience store clerk in south-central Montreal.
Prosecutor Louis Bouthillier said he intended to prove Magnotta planned the murder.