UPDATE: Say Goodbye To The Human Rights Act Now The Tories Are In Charge
Two of Britain's tabloids have enthusiastically responded to Tory plans to scrap the Human Rights Act and renegotiate the terms of our human rights agreement with Strasbourg.
The party has announced a manifesto commitment to scrap the Human Rights Act introduced by Labour in 1998 to enshrine the European Convention on Human Rights in domestic law, laws first set up in the 1950s in the wake of the Second World War to ensure such atrocities never reoccured in Europe.
The move would bleakly leave us standing alone with Belarus and Kazakhstan - the only other countries in Europe that have chosen to forsake similar laws. Belarus "suppresses virtually all forms of dissent and uses restrictive legislation and abusive practices to impede freedoms of association and assembly", while in Kazakhstan freedom of assembly is strictly controlled and a restrictive law on religious freedoms remains in force, according to Human Rights Watch.
Whereas it is often recognised that human rights are intrinsic in the preservation of equal rights and are the very foundation of freedom, justice and peace in the world, The Daily Mail and The Express have dismissed them as a "farce" and "madness" - focusing instead on cases where "criminals have made a mockery of justice."
Amnesty International's UK Legal Adviser Rachel Logan told the Huffington Post UK that such media coverage "needs to stop."
"There is indeed a lot of madness and hysteria surrounding the discussion of human rights and that needs to stop.
"It's a shame that scaremongering and untruths surrounding the Human Rights Act have tarnished what is an essential piece of law for protecting and defending all of our rights."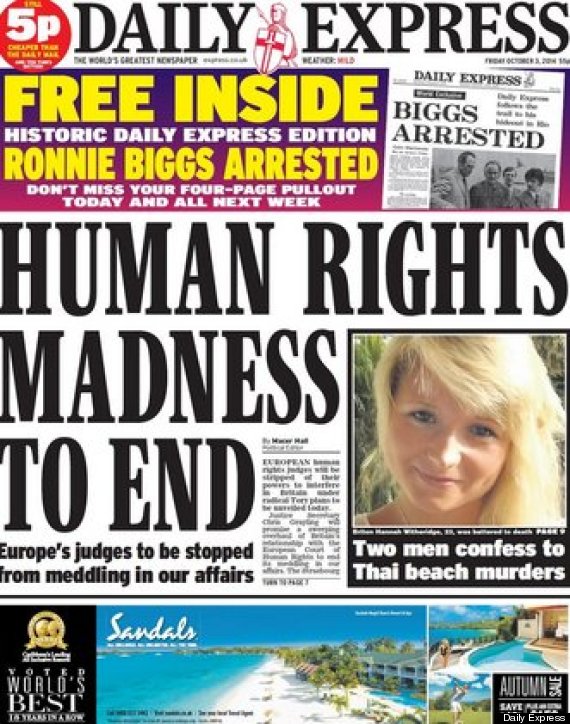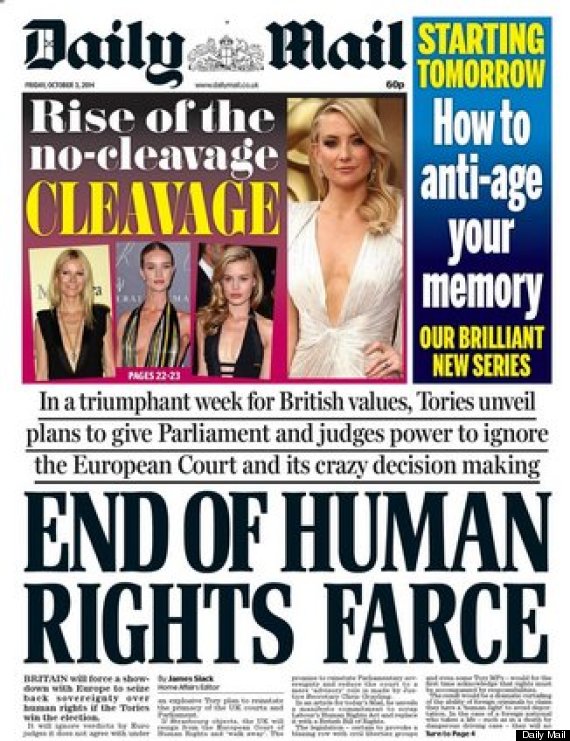 The controversial move by the Tories has already been condemned by the party's own former attorney general, Dominic Grieve QC, who said the proposals produced by Justice Secretary Chris Grayling contained a series of factual "howlers" and were not properly thought through.
Sadiq Khan, the shadow justice secretary, said the move simply proved that "once again David Cameron is pandering to Ukip instead of standing up for the rights and best interests of the people of Britain."
The truth is, he said, is that our courts have been free to interpret rulings by the European convention on human rights for 50 years – and that the Human Rights Act did nothing to change that fact.
Others took to Twitter to voice their exasperation at the newspapers and highlight how, in most cases, a lack of human rights can result in tyranny, barbarity and fear.
As the Daily Mail and Daily Express celebrate the curbing of #HumanRights I am sorry to announce the sad death of irony

— Bryan Nott (@BryanNott) October 3, 2014
Aye, well said Daily Express. It's madness. Who needs Human Rights anyway? Bloody humans. With their clothes and their opposable thumbs...

— Craig Smith (@Smicht) October 2, 2014
"Human rights madness to end" celebrates the Daily Express.

Can the Express verify its stance on torture, slavery, fair trials, etc..?

— Gareth Hart (@tgheretford) October 2, 2014
daily express: "human rights madness to end." thank god, all those human rights were doing my head in. can't wait to be rid of them.

— aoife-grace moore. (@aoifegracemoore) October 2, 2014
Daily Mail headline: "END OF HUMAN RIGHTS FARCE." Truly, England has plunged through the looking glass.

— Patrick Ness (@Patrick_Ness) October 3, 2014
'End of human rights farce.

Triumphant week for British values

Crazy decisions of European Courts'

Daily Mail. Rag. Misleading democracy

— MarianKennedy (@Marian__Kennedy) October 3, 2014
According to tomorrow's Daily Express, having human rights is 'madness'. Didn't Hitler/Mussolini/Pinochet etc say something similar?

— Rick Johansen (@Eclectic_Blue) October 2, 2014
@BBCNews It scares me that people want to get rid of the Human rights act. If the daily mail thinks it's a good idea then you know it isn't

— Jay Coleman (@duowolfs) October 3, 2014
Tomorrow's Daily Express:

"Human Rights cause cancer says Diana's ghost."

— paul bassett davies (@thewritertype) October 2, 2014
No. Today's Daily Express really does read "Human rights madness to end". Go home humanity. You're drunk.

— Natalie Windsor (@galadrielcrysta) October 3, 2014
Today's Daily Express headline: "HUMAN RIGHTS MADNESS TO END" - because who needs those, right?

— Russell Hillman (@allhellismrsun) October 3, 2014
"Human rights madness" RT @TheMediaTweets Tomorrow's Daily Star makes a lot more sense than the Mail or the Express pic.twitter.com/LoeHTpF6h5

— olympia brown (@olydbrown) October 3, 2014
The Daily Express is saying today on its front page it is "madness" to have human rights. I don't quite get that

— kevin mitchell (@kevinmitchell50) October 3, 2014
Someone on my train platform is reading something called the Daily Express. Me neither. Headline: Human rights madness to end. Phew!

— Neil Chappell (@neilchappell) October 3, 2014
Human rights? What have they ever done for us? MT @suttonnick: Friday's Daily Express front page - "Human rights madness to end"

— Christopher Bailey (@DrCDBailey) October 3, 2014
Under the blueprint, a future Conservative government would effectively issue an ultimatum to Strasbourg that it must accept being merely an "advisory body" - or Britain would withdraw from the system altogether.
Instead there would be a Bill of Rights, which would include the principles from the convention - originally drawn up by British lawyers after the Second World War.
But it would also make clear that the Supreme Court UK judges were not obliged to take European Court of Human Rights' rulings into account when coming to decisions.
Grayling said if the ECHR and the Council of Europe refused to accept the new arrangements, Britain would simply leave the convention. It was no longer sustainable to write European judges a "legal blank cheque" in the wake of rulings such as that demanding prisoners be given the vote, he argued.
However, Grieve said many of the concerns were based on "misunderstandings", and there were already moves in train to reform the court from within. He also dismissed the idea that the UK could be granted a special status while the other states signed up to the convention had to abide by Strasbourg rulings.
"All courts are ultimately human constructs and they will sometimes get things right and sometimes get things wrong," he told the BBC Radio 4 Today programme.
"In many cases there is a misunderstanding of what the court does.
"Even the paper which has just been produced by my colleague Chris Grayling includes in it a number of howlers which are simply factually inaccurate.
"One howler is ... where it says that the court of HR in Strasbourg has prevented the imposition of whole life tariffs on whole life tariff prisoners in this country.
"It hasn't. Its judgment never said that.
"On top of that we then took a case to the court of appeal, which I actually chose to take when I was AG, which found that our rules are completely compliant with what the court wants.
"Yet there it is in the paper which he has put out on behalf of the Conservative Party."
Grieve added: "It seems to me it is factually inaccurate in what it says, and that is unfortunate.
"Because if one is going to approach a complex subject I think it is very important that we should all collectively adopt a moderate and measured approach towards explaining what the issues are and what can and cannot be done."
Grieve said Grayling did not seem to have considered the problems presented by devolution in Scotland and the Good Friday Agreement in Northern Ireland.
"Both of them enshrine the requirement that the convention on human rights should be observed in Scotland and in Northern Ireland," he said.
"I think it is right to say that, in the case of Northern Ireland, it is a requirement that ultimately people in NI can take cases to the ECHR.
"And yet Chris Grayling has just written a paper which makes no reference to this issue or how it can be solved.
"Of course the Westminster Parliament is sovereign, we could change the law for Northern Ireland and Scotland.
"But I think that, in view of the way devolution has unfolded, that is something that would be a little bit difficult without consultation and I'm not aware that any consultation has taken place."
Grieve went on: "We have always been at the heart of developing human rights on the world stage. We have very high status worldwide in doing that and it is an inestimable benefit to large numbers people.
"The paper gives the impression of a retrenchment down to a very narrow focus indeed.
"The final irony is that, when we've done all these things and ended up with our own bill of human rights, 99% of the decisions that will be taken by our own Supreme Court applying it, unless it wishes to get rid of human rights, would in fact be identical to those that you would get in Strasbourg."
However, Grayling has already rejected the criticisms, pointing out that he had a longstanding disagreement on the issue with Grieve - who was sacked in David Cameron's last reshuffle.
He insisted the current Attorney General, Jeremy Wright, believed the plans were "fine, viable and legal".
Grayling also stressed that he had consulted a range of QCs and other experts before producing the paper - denying it had been "rushed out" after the Prime Minister made a crowd-pleasing pledge at this week's party conference.