Hong Kong is being rocked by waves of pro-democracy protests and calls for its leader to step down.
So it's all the more odious that Leung Chun-ying's daughter apparently decided to mock the country's taxpayers and "thank" them for buying "all my beautiful shoes and dresses".
An ugly dialogue unfolded on the purported Facebook page of Leung Chai-yan, after she was criticised for a diamond necklace she was wearing, which she later confirmed was paid for by public funds via her father's salary, Coconuts Hong Kong reported.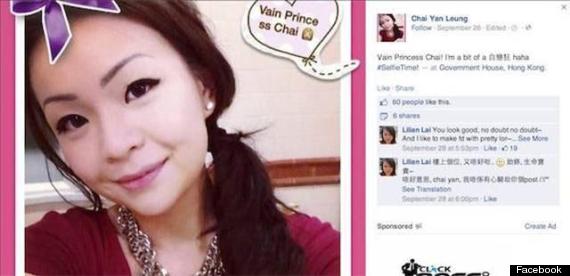 A Facebook page in the name of Leung Chai-yan carried some questionable comments
The 22-year-old replied: "The necklace in my profile pic is not a dog collar silly!!! I'm not sure if you're ever seen a canine before, but they're actually quite common around the world!
"A dog collar is usually round, black and made of nylon – placed around a dog's neck for a lead to be leashed onto.
"This is actually a beautiful necklace bought at Lane Crawford (yes – funded by all you HK taxpayers!! So are all my beautiful shoes and dresses and clutches!! Thank you so much!!!!)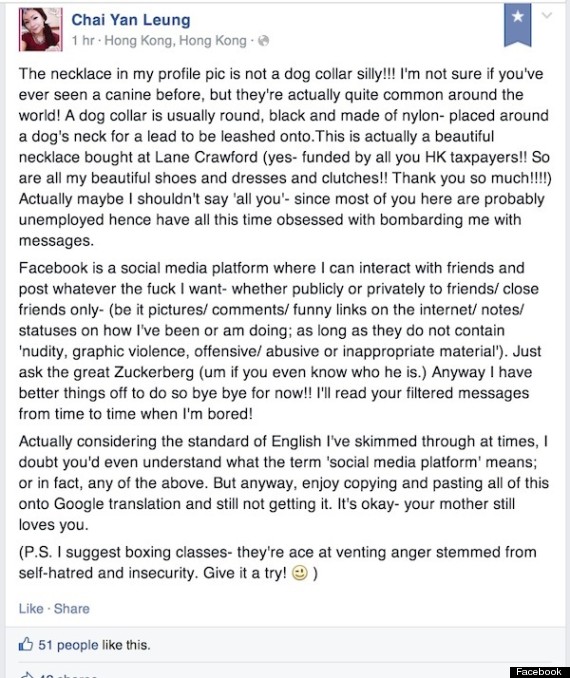 "Actually maybe I shouldn't say 'all you' – since most of you are probably unemployed hence have all this time obsessed with bombarding me with messages."
The page was later taken down, but not before Chai-yan, who is believed to be studying at the London School of Economics, took further potshots at her followers criticising their English and intelligence.
The South China Morning Press writes Chai-yan stirred controversy in June after posting photographs of self-harm on her Facebook page.
One of two images showed a slashed wrist in bloody bath water, accompanied by the caption: 'Will I bleed to death?' and the other, a bloody hand with the comment 'I love blood'.
Hong Kong protest leaders are demanding Chief Executive Leung Chun-ying steps down in matter which has become seen as the biggest challenge to Beijing's authority since China took control of the former British colony in 1997.
If you've been affected by the issues in this article, please call the Samaritans on 08457 90 90 90.