A senior Taliban spokesman, who is meant to be in hiding, has denied mistakenly geotagging his location.
Zabihullah Mujahid insisted the geotag, which told his 5,800 followers that he was in Sindh, Pakistan when he tweeted on Friday, was an "enemy plot" and he was in fact in Afghanistan.
Given he is meant to be hiding, The Huffington Post UK would have recommended not revealing his location at all.
After the geotag was pointed out to him, he tweeted on Saturday: "My Twitter account has been manipulated - as part of weak efforts of enemy plot...I call this attempt as fake and shame," according to the BBC.
"Now, the enemy's fake act has been exposed, and with full confidence, I can say that I am in my own country."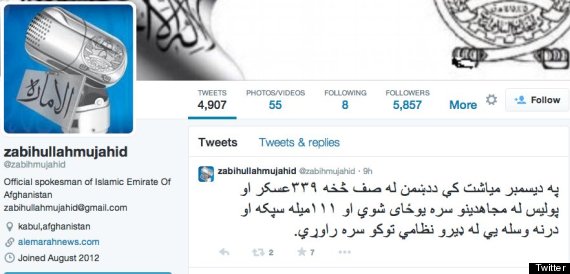 Zabihullah Mujahid's Twitter
Afghanistan and Pakistan have a 1,600-mile, porous border and the Pakistani military has been accused of ties to the Taliban.
Many Afghan Taliban leaders are believed to seek shelter in the country.
Twitter says geolocation is based on latitude and longitude or other information provided by people when they sent out messages.
In its explanation of the feature, Twitter says: "Remember, once you post something online, it's out there for others to see."
Sindh is one of the four provinces of Pakistan and does not have a border with Afghanistan. It is in the south of the country and has a border with India.
Mujahid describes himself as an "Official spokesman of the Islamic Emirate Of Afghanistan" on the social networking site.
Though he insists he is a middle-aged man on the run from the authorities, Afghan intelligence officials have previously said they believe he is a Pakistani man in his 40s called Hajji Ismail.
But American intelligence believe he might in fact be a team of communicators and they refer to him as the "Mujahid persona", The New York Times has reported.
Mujahid regularly claims responsibility for Taliban attacks in statements to the media and often communicates by phone.
SEE ALSO:
During the meeting of a large peace council in Kabul in 2010, Mujahid told a reporter by phone that the Taliban was poised to attack it with four suicide bombers.
Gunfire and rocketfire hit the event but no suicide bombing took place - though Afghan police claimed to have shot one dead.
Though Mujahid has nearly 6,000 followers, he only follows eight people.
These include other accounts claiming association with the Islamic Emirate Of Afghanistan, America's ABC News and an app developed in the UK called Twenth, which allows you to send tweets longer than the normal 140 characters.
"Sometimes 140 characters just isn't enough. So we made an app for that!" its bio says.
Sadly, it does not follow Mujahid back.
If you would like to know Mujahid's exact location, you could try asking him by email: zabihullahmujahid@gmail.com.