Islamic State fighters are close to taking a town just a few miles from the Turkish border, a fight which would be a symbolic victory over the Kurds who declared self-rule there from President Bashar al-Assad in 2012.
Locals and analysts have warned that the radical jihadists will stage a massacre in the town of Kobane which has all but been abandoned by civilians. The fighters have now reached the southwestern outskirts of the city, according to the BBC.
Reports have also suggested that one Kurdish female fighter was captured by IS militants, blowing herself up to avoid capture. Al-Arabiya reported the woman was 19-year-old Ceylan Ozalp, who was interviewed by the BBC about women's role in the Peshmerga Kurdish forces, but several on Twitter said Ozalp was still alive and fighting elsewhere.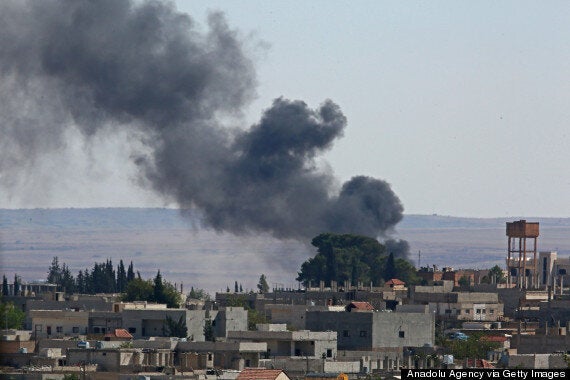 Smoke rises from Syria's Kobani following the shelling during clashes between Islamic State and Kurdish armed groups
Others on social media have questioned why the coalition airstrikes, led by the United States have not protected the town for the last 24 hours.
Muslim said there were no effective airstrikes taking place. "That is why the IS thinks it is safer to deploy most of its forces near Kobane in order to protect them from air strikes."
Turkish Prime Minister Ahmet Davutoglu has said that Turkey will do what it can to prevent Kobane falling into the hands of Islamic State, but in practice the Turkish government is reticent both to help the Kurds it has spent so long quashing within its own border, or to be the first country to commit ground troops to Syria.
On Friday, Syria's Foreign Ministry warned Turkey that deploying troops inside its borders would be seen as an act of aggression, and said that international leaders should act to "put limits to the adventures" of Turkey, which has been a key backer of Syrian opposition groups.
Nawaf Khalil, a spokesman for Syria's leading Kurdish Democratic Union Party, said of Davutoglu: "How does he want to prevent the fall of Kobani and until now Turkey has done nothing."
Khalil said Kurdish fighters in the town "will fight until the last gunman and last gunwoman."
A mortar shell fired from within Syria hit a house on the Turkish side of the border, injury five people and leaving one with significant facial injuries, it was reported on Sunday.
The Office of the Governor of Şanlıurfa ordered the evacuation of two border villages, Küçükkendirli and Büyükkendirli because of the risk to Turks living there.