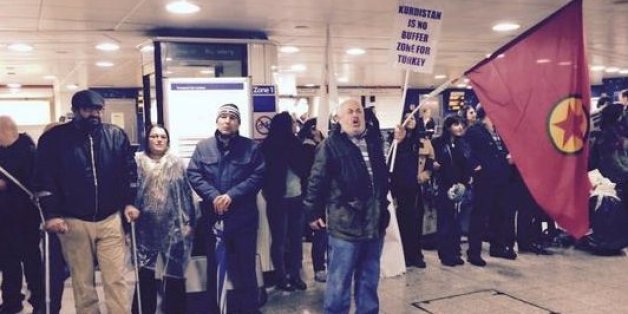 Kurdish protesters shut down Oxford Circus tube station in central London, to protest about the perceived lack of action to protect the town of Kobane, which could imminently fall to Islamic State militants.
Witnesses reported dozens of protests were blocking the ticket barriers, preventing commuters from entering the station. Transport for London said the station was closed due to a "customer incident".
Oxford Circus is central London's busiest underground station, and an interchange between the Victoria, Bakerloo and Central lines.
Another photo of the protesters at Oxford Circus station. pic.twitter.com/79KNGxg3Mv

— BBC LONDON 94.9 (@BBCLondon949) October 6, 2014
Kurds in London have occupied Oxford Circus Station to draw attention to the unfolding massacre in #Kobane@guardianpic.twitter.com/X03orT2CAY

— Fosforlu Cevriye ♁ (@jin_jiyan_azadi) October 6, 2014
BREAKING NEWS :Kurds in london have occupied Oxford Circus station for KOBANI

@jin_jiyan_azadi@mutludc #Kobani#ukpic.twitter.com/3i1nIGDv2y

— ShenGal ROJAVA (@Xunavmerdin) October 6, 2014
Kurdish anti-ISIS protestors shut Oxford Circus underground: 'Kurdistan is no buffer zone for Turkey' pic.twitter.com/Qzhpmdy87R via @RPMain

— Anthony Veitch (@tonyveitchuk) October 6, 2014
The protesters' distress hinges on conflict taking place just a few miles from the Turkish border, where local leaders have warned warned that the radical jihadists from IS will stage a massacre in the Syrian-Kurdish town of Kobane which has all but been abandoned by civilians. The fighters have now reached the southwestern outskirts of the city, according to the BBC.
On social media have questioned why the coalition airstrikes, led by the United States have not protected the town for the last 24 hours.
Turkish Prime Minister Ahmet Davutoglu has said that Turkey will do what it can to prevent Kobane falling into the hands of Islamic State, but in practice the Turkish government is reticent both to help the Kurds it has spent so long quashing within its own border, or to be the first country to commit ground troops to Syria.
On Friday, Syria's Foreign Ministry warned Turkey that deploying troops inside its borders would be seen as an act of aggression, and said that international leaders should act to "put limits to the adventures" of Turkey, which has been a key backer of Syrian opposition groups.
Nawaf Khalil, a spokesman for Syria's leading Kurdish Democratic Union Party, said of Davutoglu: "How does he want to prevent the fall of Kobani and until now Turkey has done nothing."
Khalil said Kurdish fighters in the town "will fight until the last gunman and last gunwoman."
A mortar shell fired from within Syria hit a house on the Turkish side of the border, injury five people and leaving one with significant facial injuries, it was reported on Sunday.
The Office of the Governor of Şanlıurfa ordered the evacuation of two border villages, Küçükkendirli and Büyükkendirli because of the risk to Turks living there.
The US has taken part in air strikes against IS positions in Syria, but the British military effort has so far been confined to Iraq.
Idris Nassan, a senior spokesman for Kurdish fighters, told the Guardian: "Air strikes alone are really not enough to defeat IS in Kobani.
"They are besieging the city on three sides, and fighter jets simply cannot hit each and every Isis fighter on the ground."
Deputy Prime Minister Nick Clegg signalled he would be prepared to support British air strikes in Syria if the situation on the ground becomes less "chaotic".
But he told ITV's Good Morning Britain: "Additional air strikes in Syria will only have limited effect unless we can make sure that the forces we're supporting in Syria really can make progress on the ground."