Jeremy Clarkson's insistence that Top Gear did "nothing wrong" and did not mean to provoke offence in Argentina - where they were attacked and chased by angry mobs - has left plenty of people unconvinced.
One of the cars bought for the episode had the licence plate H982 FKL - which was construed as a reference to the 1982 war in which 258 Britons and 629 Argentinians were killed - which remains a source of acute tension between the UK and Argentina.
The BBC has said the licence plate was not intentional and was changed when it was pointed out by someone on Twitter.
Bookies William Hill said the odds of buying a car with that licence plate by coincidence are 13 million to one, the Mirror reported.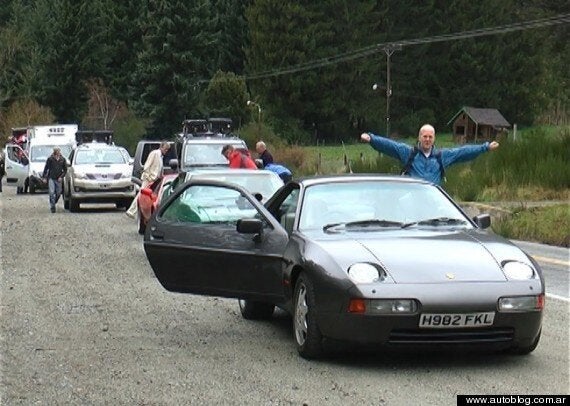 Writing in Monday's Daily Mail, columnist Peter McKay said Top Gear must have considered making reference to the Falklands War in their Argentina show given it propensity for causing offence deliberately.
He said the plate may have been "a genuine mistake" but said he is "suspicious" of the explanation.
"Given the nature of Top Gear, which specialises in stereotyping foreigners for comedy purposes, motoring into Argentina with a number plate that would annoy the locals might seem a top jape," he said.
"Indeed, it's hard to imagine Top Gear making a show in Argentina without some sardonic reference to its defeat by Britain in the 1982 Falklands War.
But he added this would have been "tricky taste-wise, even for cocky Clarkson".
Top Gear was filming in Ushuaia, in the extreme south of the country, from which the cruiser General Belgrano sailed during the war on its final voyage.
It was sunk by a British submarine with the loss of 323 sailors.
Argentinian politicians claimed the provocation was clearly deliberate.
"I have no doubt they came to mock us and I'm proud of the peaceful reaction of our people," said Juan Manuel Romano, human rights secretary of Ushuaia.
"We told them we would not give them any collaboration and to avoid, as much as possible, driving their cars through our city with those licence plates."
"We don't believe it was an unfortunate coincidence," said Sergio Araque, a politician from Tierra del Fuego, the province that claims to the Falkland Islands, which the Argentinians call Las Malvinas.
In his column, McKay asks why Top Gear's production crew did not notice the potential offence until it was pointed out by someone on Twitter.
"So just who is the well-informed Tweeter in possession of this knowledge and how did they hear about H982 FKL? We are left none the wiser," he wrote.
"And if the potentially contentious number plate issue was noticed by the anonymous tweeter, why not by Top Gear's 29-strong team?"
He added: "Clarkson's bad-boy status - he is said to be drinking in the BBC's last chance saloon - enhances (Top Gear's) appeal. So we're entitled to be suspicious about this new row."
The BBC did not comment on McKay's column when contacted by The Huffington Post UK.
In a statement issued before McKay's column, Top Gear executive producer Andy Wilman said: "Top Gear production purchased three cars for a forthcoming programme; to suggest that this car was either chosen for its number plate, or that an alternative number plate was substituted for the original is completely untrue."
The Mirror asked questions it said "the BBC still won't answer", including who was in charge of "making sure no mistakes are made again" after a line of controversial incidents in the show.
A BBC spokeswoman said the corporation had no comment to add in light of today's coverage.