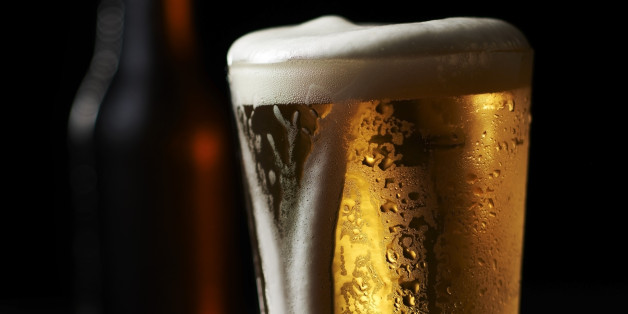 Jack Andersen via Getty Images
Student living has long been synonymous with drinking, with the average uni student in Britain spending £121 on alcohol during Freshers' Week alone.
University bars up and down the country are now back in full swing after the summer break and VoucherCodes.co.uk's annual Price of a Pint Index reveals Leeds' students stand to get the most beer for their buck this academic year.
The Price of a Pint Index compares the cost of a pint of lager, vodka and mixer and a glass of wine at the UK's top 20 universities. Student Union bars in Leeds offer the best value round to their punters at just £6; the average price for drinks in this student city have actually fallen by 27p from last year.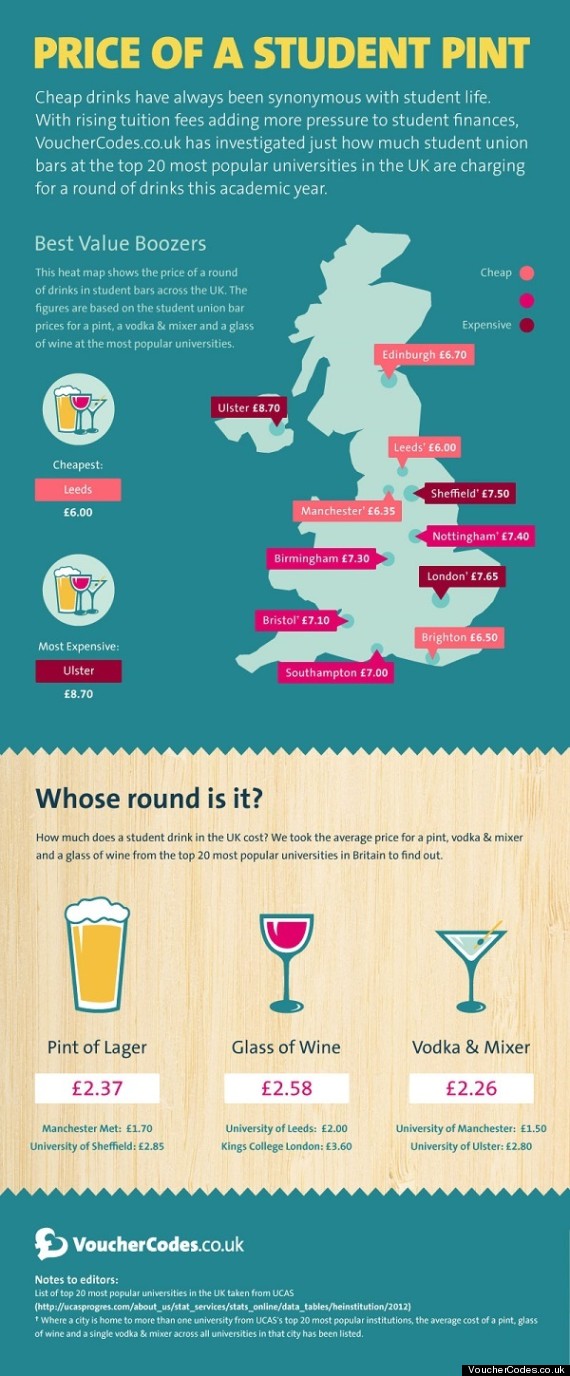 Manchester and Brighton follow closely behind for value with a round at student unions costing £6.35 and £6.50 respectively. Bristol, who have been top of the poll for cheap booze for the past two years, fall to sixth place – a round there will cost students £7.10.
The Price of a Round in Student Cities:
Leed: £6.00
Manchester: £6.35
Brighton: £6.50
Edinburgh: £6.70
Southampton: £7.00
Bristol: £7.10
Birmingham: £7.30
Nottingham: £7.40
Sheffield: £7.50
London: £7.65
Ulster: £8.70
The average price for a pint in the UK's student union bars is £2.37, up by 7p compared to 2013. The University of Ulster is the most expensive place for a student night out once again this year, but at just £8.60 for a round it's still great value for students. Manchester Met takes the crown for the cheapest pint, easing the burden on purse strings with a lager there coming in at a very reasonable £1.70. The University of Leeds offers the best value for a small glass of wine at £2 and those hitting the University of Manchester for a night out will enjoy the cheapest vodka and mixer at £1.50.
The prices are based on the cost of a pint of lager, vodka and mixer and a glass of wine in the student union bars at the top 20 most popular universities as published by UCAS.
Where a city is home to more than one university from UCAS's top 20 most popular institutions, the average cost of a pint, glass of wine and a vodka and mixer has been used.