A 29-year-old recently married woman is planning to end her life on 1 November after receiving a terminal diagnosis.
In April this year Brittany Maynard was told she had stage 4 glioblastoma - a malignant brain tumor which would only leave her with six months to live.
"My glioblastoma is going to kill me, and that's out of my control. I've discussed with many experts how I would die from it, and it's a terrible, terrible way to die. Being able to choose to go with dignity is less terrifying," Brittany told People magazine.
Brittany has recently launched an online video campaign (above) to fight for death with dignity laws to be expanded in America.
Brittany and her entire family moved to Oregon earlier this year so she could have access to the state's Death with Dignity Act. She has since been prescribed drugs that will enable her to end her life when she chooses.
In the video, Brittany tells how she started to experience severe headaches in January 2014, shortly after marrying husband Dan Diaz. She says she and Dan were actively trying for a family around the time she was diagnosed with the brain cancer.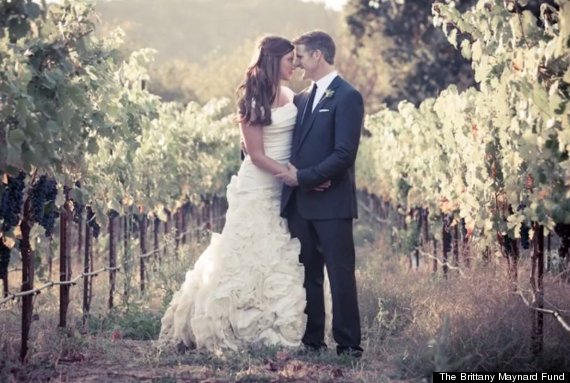 Before her diagnosis, Brittany was a true go-getter - she ran half marathons, travelled through Southeast Asia and climbed Mount Kilimanjaro.
But she has been feeling increasingly weak in recent weeks, and believes it is time for her life to end.
"I really wanted to celebrate my husband's birthday, which is October 30," she says. "I'm getting sicker, dealing with more pain and seizures and difficulties."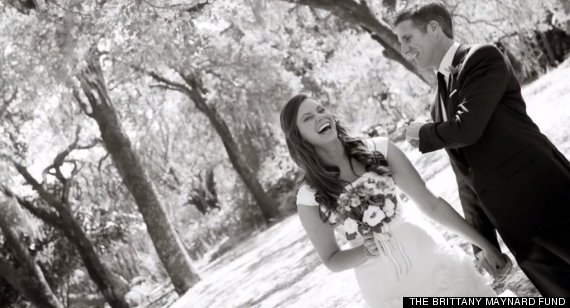 When Brittany takes the lethal medication on 1 November, she will be at home, with her husband, parents and best friend.
"I hope to enjoy the days I have left on this beautiful earth and spend as much of it outside as I can, surrounded by those I love," she says. " I hope to pass in peace."
SEE ALSO:

Go Giver: This Woman Started A Charity To Fund And Organise Weddings For Other Terminally Ill People

Terminally-Ill 20-Year-Old Spent His Final Moments Helping Others In Heartbreaking Video