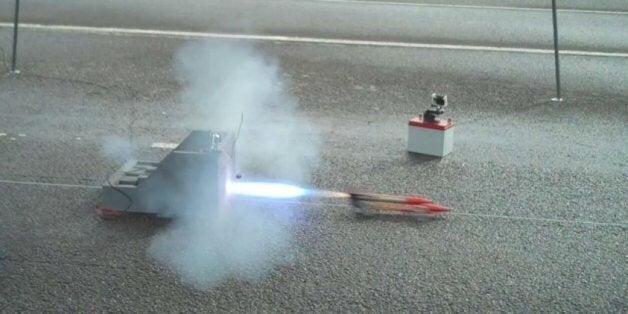 Teenagers from a school in Nottinghamshire have broken the land speed record for a rocket-powered car not once, but twice, with their model car which can reach speeds of more than 550mph.
The members of the young engineers club from Joseph Whitaker School in Mansfield built three cars which were put through their paces at a testing track. All three exceeded speeds of 440mph but it was the third vehicle, Insanity, which got up to nearly 510mph on its first run, then hit 556.28mph on its second.
All the cars beat the existing record of 287mph.
Teacher Phil Worsley said: "The weather was horrific early on Saturday morning but then eventually the sun came out and we were away.
"We're actually going to get two certificates from the Guinness Book of Records because we broke our own new record and the whole school is absolutely buzzing.
"We started with buying simple rocket kits, building them and firing them into the sky - then developed our ideas from there.
"We thought before we did the official runs that we were in with a good chance - we weren't being cocky, but we had done lots of practice runs and knew how the cars were performing."