Education campaigner Malala Yousafzai has become the youngest person to win a Nobel prize - and found out in a chemistry lesson at her school in Birmingham.
Malala came to prominence after being shot in the head by The Taliban in October 2012, when her calls for equal rights angered militants in her homeland of Pakistan.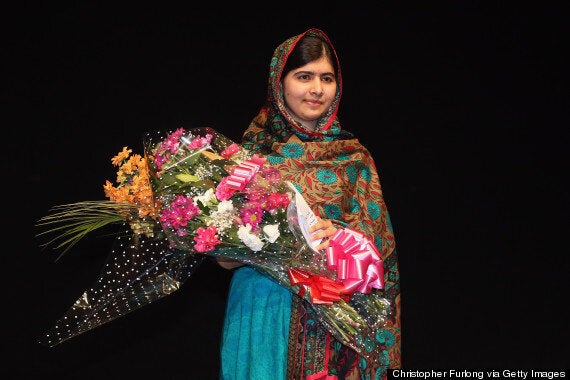 Malala accepting the Nobel peace prize
Speaking after finishing the school day at Edgbaston High School for Girls in Birmingham, she explained that a teacher had broken the news to her in chemistry class.
Malala said she completed the rest of her school day after learning she had won the prize.
"When I found I had won the Nobel Peace Prize I decided I would not leave my school, rather I would finish my school time," she said.
"I went to the physics lessons, I learned. I went to the English lesson. I considered it like a normal day.
"I was really happy with the response of my teachers and my fellow students. They were all saying they were proud."
The teenager said it was "quite difficult" to express her feelings but she felt "really honoured".
She added: "I felt more powerful and more courageous because this award is not just a piece of metal or a medal you wear or an award you keep in your room.
"This is encouragement for me to go forward."
She said: "My message to children all around the world is that they should stand up for their rights."
Explaining why she had campaigned against extremism despite the risks, she said: "At that time I stood up for my rights and I said 'I will speak up'. I did not wait for someone else.
"I had really two options, one was not to speak and wait to be killed, and the second was to speak up and then be killed
"And I chose the second one because at that time there was terrorism, women were not allowed to go outside of their houses, girls' education was totally banned, people were killed.
"At that time I needed to raise my voice because I wanted to go back to school. I was also one of those girls who could not get education. I wanted to learn and be who I can be in my future."
Story continues below the video
Malala said that her dream at the time she was shot was to become a doctor, but that now she had decided to become "a politician, a good politician".
Malala said she planned to "honourably request" for Pakistani prime minister Nawaz Sharif to be present when she receives the prize on December 10.
She told the press conference that she had spoken to Satyarthi on the telephone and asked him to invite Indian prime minister Narendra Modi to join them at the ceremony too.
"I really believe in peace, I really believe in progress and patience and it is really important for the progress of both the countries that they have peace and they have good relationships," she said.
"This is how they are going to achieve success and this is how they are going to progress."
The teenager, who had already been tipped to win the peace prize last year, said she still believed that she did not deserve the award.
But she added: "I believe it is not only an award for what I have done.
"It is also an encouragement for giving me hope, for giving me the courage to go and continue this campaign, to believe in myself and to know that I'm not alone -that there are hundreds and thousands and millions who are supporting me."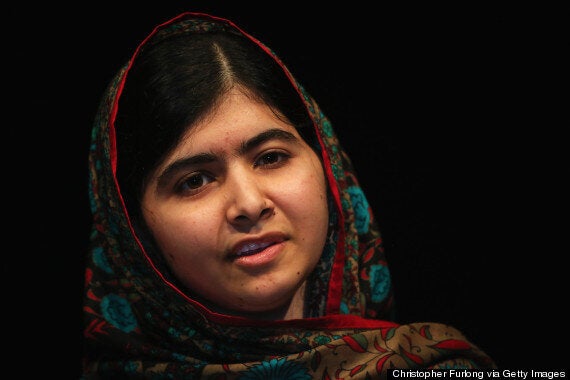 Malala finished her school day
Pakistan's High Commissioner to the UK, Ibne Abbas, had travelled from London to Birmingham to present Malala with a bouquet of flowers on behalf of her home nation.
Speaking to camera crews at the Library of Birmingham, Abbas conceded that he had been surprised to learn that Malala had been honoured with the award in a conversation with her father.
Abbas explained: "He was very happy of course and he asked me if I could join them here.
"I had engagements but this is a historic moment so I cancelled them.
"I was pleasantly surprised and absolutely delighted because Malala is the youngest recipient of this award and she has made history.
"We are very happy and the prime minister of Pakistan has termed her the 'pride of Pakistan'."
Asked whether he believed the joint prize could foster improved relations between India and Pakistan, Abbas replied: "It is a Nobel peace prize - we hope that will augur well for peace in the region and the entire world."
By winning, Malala took the title of youngest Nobel Laureate from Lawrence Bragg, who was 25 when he was awarded the prize with his father for physics in 1915.
The Nobel Prize committee said: "Despite her youth, Malala Yousafzai has already fought for several years for the right of girls to education, and has shown by example that children and young people, too, can contribute to improving their own situations.
"This she has done under the most dangerous circumstances.
"Through her heroic struggle she has become a leading spokesperson for girls' rights to education."
The Nobel committee said it was an "important point for a Hindu and a Muslim, an Indian and a Pakistani, to join in a common struggle for education and against extremism".
It praised Satyarthi, 60, for showing "great personal courage, maintaining Gandhi's tradition" to lead peaceful protests against child slavery and exploitation during almost 35 years.
The pair came top of a record list of 278 nominees which included US whistleblowers Edward Snowden and Chelsea Manning, Russian president Vladimir Putin and Pope Francis.
The International Space Station Partnership and an anti-war clause in the Japanese constitution were also in the running for the coveted award.
Former prime minister Gordon Brown, who as UN special envoy for education used the slogan "I am Malala" to demand all children across the world be in school by the end of 2015, described Malala and Satyarthi as "the world's greatest children's champions".
He said: "They are two of my best friends and two of the greatest global campaigners, who deserve the Nobel Peace Prize for their courage, determination and for their vision that no child should ever be left behind and that every child should have the best of chances.
Story continues below the video
"Kailash's life-long work in India fighting child labour - which I have had the privilege to see at first hand - complements Malala's work standing up for girls' rights to education, from Pakistan to the rest of the world."
Besides prize money of eight million Swedish krona (almost £690,000), Nobel laureates receive a gold medal and a diploma.
Malala, whose father Ziauddin is a school teacher, was just 15 when she was shot in the head in Swat District, in the country's north-western Khyber Pakhtunkhwa province.
Her career as an activist began in early 2009, when she started writing a blog for the BBC about her life under Taliban occupation and promoting education for girls in the Swat Valley.
On October 9 2012 a gunman fired three shots at her using a Colt 45 after asking for her by name as she travelled home on her school bus.
One of the bullets hit the left side of Malala's forehead, travelled the length of her face through the skin and into her shoulder.
In the days following the attack she remained unconscious and in a critical condition and was airlifted first to Dubai and then on to Birmingham, where she was treated for life-threatening injuries at the Queen Elizabeth Hospital.
She has not been able to return to her home country due to continued threats and has been criticised by Pakistani conservatives who claim she is serving the west's political agenda.
The Khushal Public School where Malala studied before being shot, which is run by her first cousin Mehmood ul Hassan, is planning to hold a ceremony on Monday to celebrate its globally famous former pupil's achievement.
Since her recovery Malala has spoken before the UN, met the Queen and US president Barack Obama, been named by Time magazine as one of the world's 100 most influential people and published her memoir, I Am Malala.
Last year the UN made July 12 - the activist's birthday - Malala Day, celebrating the campaign for a child's right to receive an education.
The Nobel prize announcements have been made throughout the week and conclude with the prize for economics on Monday.
On Monday, British-American scientist John O'Keefe and married couple May-Britt and Edvard Moser from Norway won the Nobel prize in physiology or medicine for discovering the brain's "inner GPS".
Yesterday the literary world was taken by surprise when the committee chose little-known French author Patrick Modiano for the prize.