Today we get our first look at 'Focus', the film co-starring Will Smith and Margot Robbie that was the subject of so much speculation around the pair when it was filmed earlier in the year.
Above is the first trailer for the film, which is a slick tale of con-artist Nicky, played by Will, instructing his young protegee Jess (Margot) in the art of pulling a fast one. As her skills dazzle and entertain him, so their ambitions escalate, until it looks as though they could have reached a bit too far, poking their fingers in the wrong cage.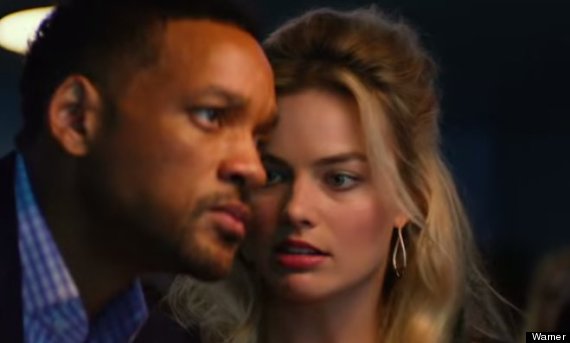 Margot plays Jess, a young protegee instructed in the ways of the con by master trickster Nicky (Will Smith)
Margot Robbie has had a stellar couple of years, with her role in Richard Curtis's 'About Time' followed by a lead role opposite Leonardo DiCaprio in 'The Wolf of Wall Street'. Not bad for an Aussie lady who only left the set of 'Neighbours' in Melbourne three short years ago.
Margot told HuffPostUK of her surprise when she got the call from Will Smith. "It really is one of those joke stories, where the phone rang really early in the morning, and this voice said, 'It's Will Smith,' and I said, 'Haha, you're funny…' thinking it was one of my friends, but on this occasion only, it was actually him."
Unlike the likes of Melissa George who wants to leave her training days on Aussie soap well behind her, Margot has only good things to say about her Ramsay Street acting education.
"I will never work that hard again," she says now. "Whatever I end up doing, it won't be as tough as the filming schedule for Neighbours - five shows a week, 10 hours a day. And I'm glad of it."
'Focus' is released nationwide on 27 February 2015.
LIKE US ON FACEBOOK | FOLLOW US ON TWITTER