A Bahrain human rights activist currently awaiting trial has told HuffPost the British government bear some of the blame for allowing the repressive Bahraini authorities to crush the country's democracy movement.
Nabeel Rajab, president of the Bahrain Centre for Human Rights, had been in prison for two years for his part in the Arab Spring uprisings in Bahrain.
Freed in May after serving his full sentence, he is likely to face a significant prison term again after being charged yesterday with insulting Bahraini government institutions on Twitter, by linking them to the radical jihadists Islamic State.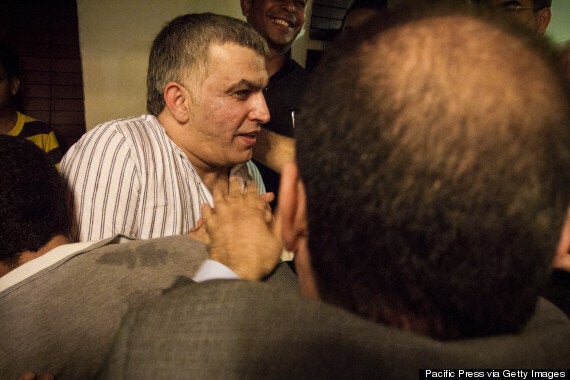 Human rights defender Nabeel Rajab amid the receiving crowd after his release from prison - he has since been re-arrested
The charges come in the wake of a court ruling that a Bahraini prince may face prosecution in the UK for allegedly being directly involved in the torture of three pro-democracy protesters.
The High Court ruled that Prince Nasser bin Hamad al-Khalifa was not immune because of his Royal status, but could only be prosecuted if new evidence emerges.
Prince Nasser has been a regular visitor to Britain, and has spent time with members of the Royal family. The Bahrani government strongly denies the torture allegations.
The al-Khalifa royal dynasty has ruled Bahrain for more than 200 years - and launched a brutal crackdown on anti-regime protesters back in February 2011, when the Arab Spring arrived in the country's capital of Manama. Over the past three years, the Bahraini military and police, with the assistance of Saudi security forces, have harassed, arrested, detained and tortured members of the opposition, according to groups such as Human Rights Watch and Amnesty.
Like the United States, the UK has long enjoyed close links with Bahrain, both in terms of security and commerce. Tony Blair's trade minister once referred to the relationship between Britain and Bahrain as "special".
Rajab is a prominent critic of the cosiness which he says exists between the Gulf states and the British government which feeds inaction over grave human rights concerns.
"Nobody wants to touch this part of the world because of their influence. It's not like when something happens in Iran, or Iraq or Syria. The UK especially is very careful of interfering in a country like Bahrain or Saudi Arabia. And this makes our struggle for democracy very difficult. I don't expect it to be discussed in the Parliament here, or in the European Union, but still it is amazing how soft the government here is. It's very, very disappointing," he told HuffPost UK, in one of his last interviews before his arrest.
During a visit to the UK last month, Rajab was questioned and detained by UK authorities. "They stopped me at the airport for five hours, in front of my children," he said. After leaving Europe, he returned to Bahrain to continue his activism, but was arrested after less than 24 hours, sending a tweet to his 239,000 followers linking alleged extremism in the Bahraini secret services to fighters in the Islamic State.
Under Article 216 of the Bahraini Penal Code, this crime is punishable with up to three years in prison. Article 216 provides that: "A person shall be liable for imprisonment or payment of a fine if he offends by any method of expression the National Assembly, or other constitutional institutions, the army, law courts, authorities or government agencies."
"This is not about one person," he said. "Maryam's father is on hunger strike, as are others. Maryam's sister spent two years in jail, her uncle spent three years in jail and there are more cases pending. Thousands of people are being mistreated in jail. This is an opportunity to bring all of these stories to the world.
"There are bigger stories than me, than Maryam. It is a big story being ignored by the media."
He dismissed suggestions that the protests and arrests in Bahrain were playing second fiddle in the concerns of world leaders with their minds full of an advancing radical jihadist army in Iraq and Syria. "To be honest there have always been reasons why the focus has not been on Bahrain," he said. "The international community was busy with Libya, with Egypt, with Iran before, or so they say.
"But this isn't really the reason, it's the amount of influence the Gulf States have on this country, that's the reason, not they are caught up in other things. Bahrain has a lot of influence. People are nervous, any instability in Bahrain could have an influence on Saudi Arabia, and Britain has a lot of interests there."
Story continues after slideshow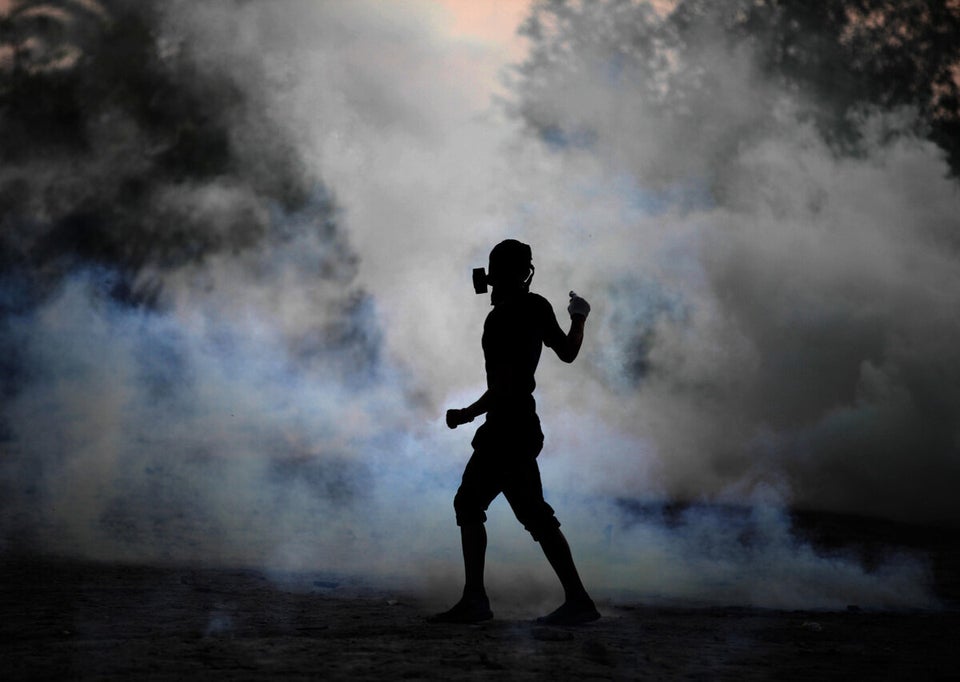 Bahrain In Uproar
Since Rajab's arrest, al-Khawaja has been released and had her travel ban lifted, though she is due to stand trial in Bahrain in December. This week, she will fly to Britain to return the favour, to try to raise awareness of Rajab's plight.
Rajab said that he and his fellow dissidents will keep fighting, even from prison and in exile. "There is a grassroots movement, a revolution in the making, and they can't silence us. It is still going on, every single week.
"And the situation is improving, we are getting results. We have 47 countries who have signed a petition to stop the clamp down, that is progress. It's not countries like the UK, unfortunately, who are willing to do that. Many other European countries are, however, and so there is an awareness slowly growing in the European community."
But Britain, he said, is a lost cause. "Even in the US, they are not exactly supporting us but they are not giving there approval to the Bahrain government either. The British, no. They not only support trade with Bahrain, but if any other business or country pulls out in order to protest the problems with human rights, the British swoop in to take that trade."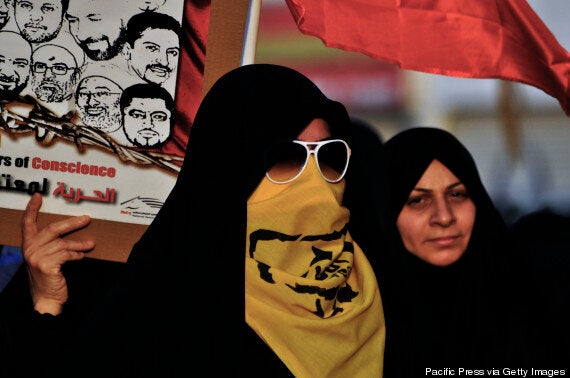 Hundreds of opposition supporters in west of Manama, Bahrain, demanding the rule of law and institutions
BAHRAIN: A TIMELINE

2011

Inspired by the Arab Spring uprisings in Tunisia and Egypt, thousands of protesters gather in Manama in February, and the resulting crackdown sees Saudi troops being called in and protesters killed

Authorities declare martial law and ban demonstrations, but protests continue. Two of the main Shia political parties are banned, and remaining Shia MPs quit parliament. Abdulhadi al-Khawaja, Bahrain's leading activist is jailed him for life for "plotting against the state", as well as 12 others - known as the 'Bahrain 13' by Amnesty International.

The Bahrain Independent Commission of Inquiry, is established by the King of Bahrain in June to look into the incidents. It releases a 500-page with 9,000 testimonies in November, saying there were "force and firearms were used in an excessive manner that was, on many occasions, unnecessary, disproportionate, and indiscriminate."

The report also confirmed the Bahraini government's use of systematic torture and other forms of physical and psychological abuse on detainees.

The government concedes that "excessive force" was used by security personnel and begins reform.

2012

Police bar protesters from marking the anniversary of the crackdown and prevent a gathering at the now demolished Pearl Square. Anti-government protests mar the Formula 1 Grand Prix.

Long jail sentences on 20 medical staff for taking part in anti-government protests are lifted, with nine are acquitted entirely. Nabeel Rajab, president of the Bahrain Centre for Human Rights is jailed for three years for being part of "illegal gatherings".

Angry protests surround the funeral of jailed activist Ali Ahmed Mushaima, who died in prison. And protests again surround the Formula 1 Grand Prix.

2013

King Sheik Hamad bin Isa al-Khalifa issues new decrees giving authorities more powers to strip citizenship and block funding channels. The country sees 745 protests in December alone.

2014

A bomb blast during protests by Bahraini Shias in March kills three police officers and injures another. Twenty-five suspects are arrested in connection to the bombing, and the Bahraini government designates various protest groups as terrorist organisations.