Police in Thailand have insisted they have "concrete" evidence linking two Burmese men to the murders of British tourists Hannah Witheridge and David Miller, as they denied reports the suspects have withdrawn their confessions.
The men, named in reports as bar workers Zaw Lin and Win Zaw Htun, are accused of the brutal murders of Miss Witheridge, 23, and 24-year-old Mr Miller on the island of Koh Tao in September.
The two suspects, both 21, were charged with three offences - conspiracy to murder, conspiracy to rape and robbery - after local police said the men confessed to the killings.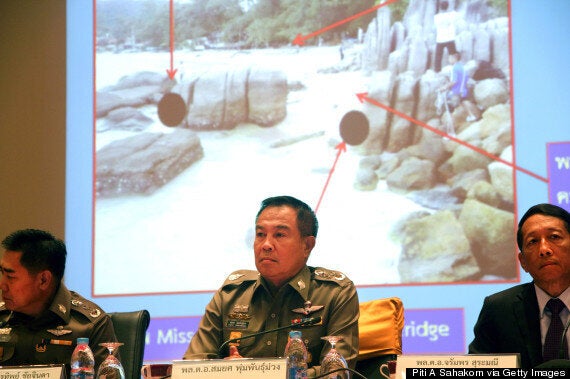 Thai National Police chief Pol. Gen. Somyot Poompanmoung (c) during the press conference about the two British tourists murdered on Koh Tao
But reports emerged on Thursday that Aung Myo Thant, a Burmese embassy official, had formally retracted their confessions amid allegations the pair were tortured.
A spokesman for the Royal Thai Police today strongly denied the accusations of torture as he insisted the confessions had not been withdrawn.
DNA samples taken from Miss Witheridge's body had matched the two suspects, who could face a death sentence if convicted, he said.
Deputy police chief spokesman Colonel Kissana Phathanacharoen said: "They made a full confession which has been forwarded to the public attorney's office.
"The Burmese embassy sent a representative to look at the case because two of their nationals have been charged with serious offences.
"They may face a maximum penalty of execution. That's why the embassy sent a representative to closely look at the situation.
"The men are still in custody. During the inquiry they had their own legal representations.
"We had them checked by a doctor before and after the inquiry because we thought the accused may claim they were tortured. The accused persons can say anything want.
"They can withdraw their confessions if they like. We have concrete evidence including DNA evidence from Hannah's body which matched the two suspects.
"The suspects are now under an inquiry by the public prosecutor and are remanded in custody by the public prosecutor.
Once the legal documents are completed, the case will then be forwarded to the court to judgment."
Amnesty International has called for an investigation into the allegations of police torture. The UK-based charity cited a lawyer from the Burmese embassy legal team who said he had been told that police had beaten the suspect and "threatened him with electrocution".
The Foreign and Commonwealth Office said it was concerned about the reports and expected a fair investigation. Thai police have come under domestic political pressure to solve the case amid widespread criticism of the investigation.
The funeral of Miss Witheridge took place yesterday as friends and family gathered for a vibrant "party" send-off at St Mary The Virgin church in Hemsby, Norfolk.
Mr Miller, from Jersey, died from drowning and a blow to the head, while Miss Witheridge, from Great Yarmouth, died from head wounds.