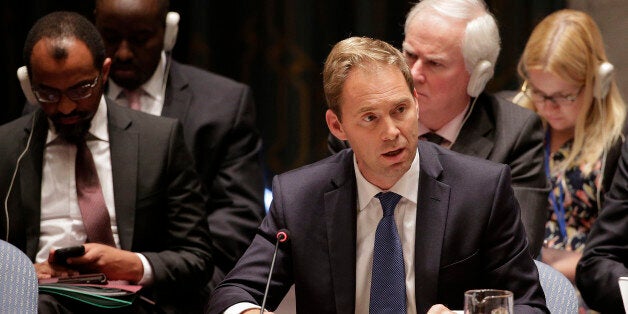 Britain will recognise a Palestinian state when it believes it will help the peace process, the Middle East Minister said, amid pressure for the Government to act immediately. Tobias Ellwood warned MPs that the timing of when the UK opts to accept Palestinian statehood is "critical", insisting: "You can after all only play this card once."
The Conservative front-bencher added the Israeli occupation would also need to end to make Palestinian statehood a reality. Mr Ellwood spoke as the Commons debated a motion encouraging the Government to recognise Palestine as a state, a move backed by Labour along with former foreign secretary Jack Straw's amendment to recognise Palestine as a state as a "contribution to securing a negotiated two-state solution".
The debate follows the collapse of peace talks between Israel and Palestine and a summer conflict in Gaza which claimed the lives of more than 2,100 Palestinians - mostly civilians - as well as 70 Israelis, all but six soldiers. Replying for the Government, Mr Ellwood said Israel "lives in a tough neighbourhood" and has a right to defend itself.
But he said Israel's settlement building made it hard for its friends, which Britain considers itself to be, to make the case that it was committed to peace. Asked if the consequences of MPs backing a Palestinian state would be helpful, neutral or negative, Mr Ellwood replied: "We have made our position absolutely very clear that Britain defends the right to choose our moment which is appropriate for the peace process and when we make that bilateral decision."
He went on: "We commend the leadership of (Palestinian Authority president Mahmoud Abbas) and (prime minister Rami Hamdallah), who I met last week, and their commitment to securing cooperation and institutional reform. Yet despite their commitment and the support of donors such as the UK, the aspirations of the Palestinian people cannot be fully realised until there is an end to the occupation ... and we believe this will only come through negotiations.
"That is why following the Cairo conference the sense of urgency was recognised, a point I just made, and why the UK hopes that a serious process can urgently resume. That is the time to readdress these issues. Only an end to the occupation will ensure that Palestinian statehood becomes a reality on the ground. The UK will bilaterally recognise a Palestinian state when we judge that it can best help bring about the peace."
On what difference voting in favour of the motion would make, Mr Ellwood said: "You can after all only play this card. Once it's done, you cannot repeat it so the timing of this is critical." He added: "The UK will recognise a Palestinian state at a time most helpful to the peace process because a negotiated end to that occupation is the most effective way for Palestinian aspirations of statehood to be met on the ground."
Tory Robert Halfon (Harlow) said: "I agree there should be a Palestinian state - in fact not many realise there is already a Palestinian state called Jordan. "It was created by the British in 1921 and originally called Trans Jordan. After the 1948/49 war against the newly created state of Israel, the Jordanian monarch Abdullah even called himself the King of Jordan and Palestine as his country controlled the West Bank.
"The vast majority of Arabs currently in Jordan are in fact Palestinian Arabs. If we are not careful we could end up with three Palestinian states: to be precise, one and two state-lets. One controlled by the Hashemite kingdom of Jordan, whose eastern borders are now threatened by Isis, one controlled by Fatah in the West Bank and one controlled by Hamas in Gaza."